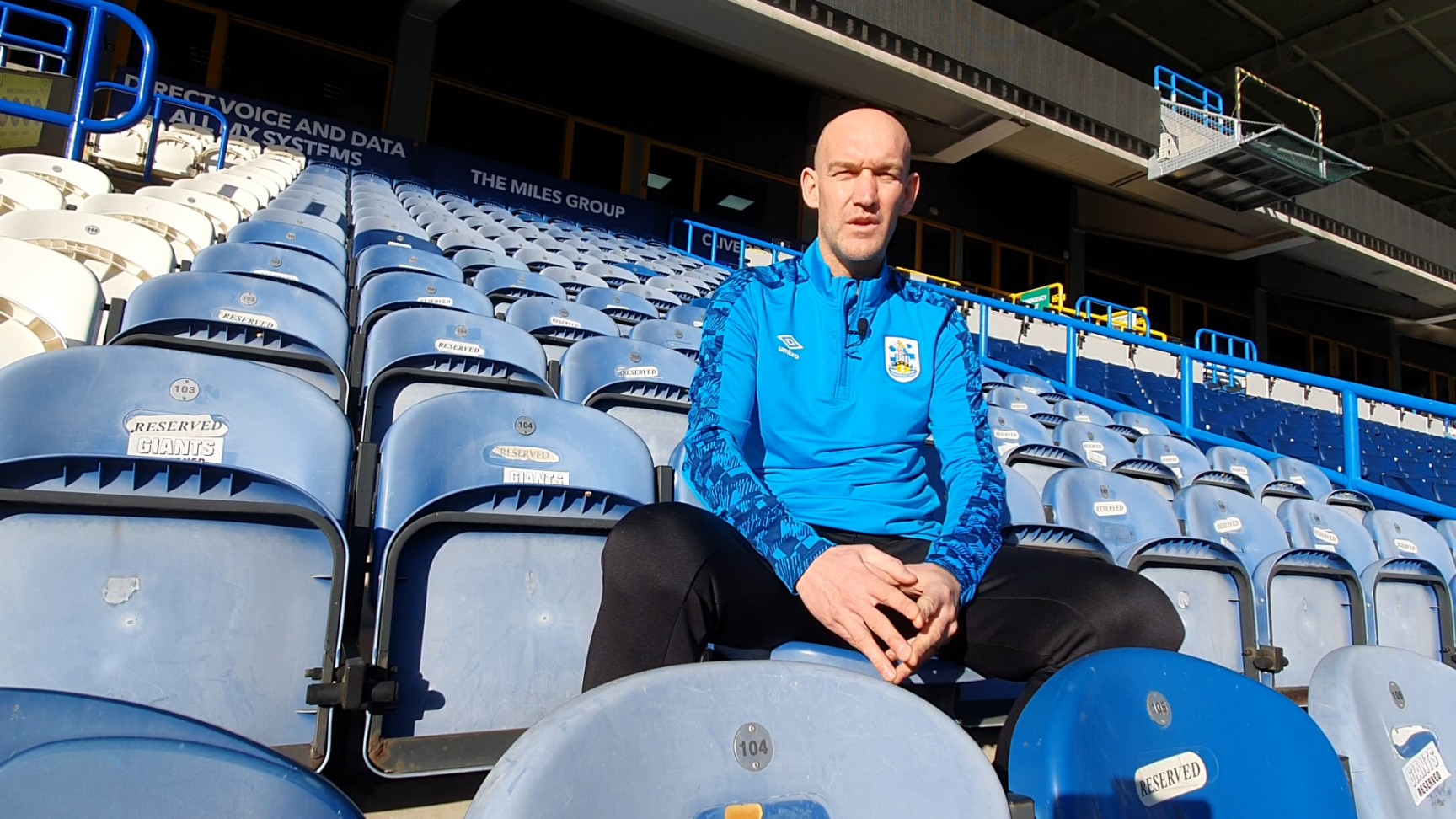 27 Jan

BOOTHY SET TO TAKE ON JOHN SMITH'S STADIUM SEAT CHALLENGE

On Friday 29 January 2021, Huddersfield Town Ambassador Andy Booth will take on the mammoth task of sitting in as many of the John Smith's Stadium's blue seats as possible!

Boothy is taking on the challenge on #WearBlue day, an annual fundraising event for the Huddersfield Town Foundation.

As the Club's registered charity, the Town Foundation works to better the lives of people across Kirklees and runs programmes across five key themes – Education, Health, Inclusion, Sport and Trust Fund.

The COVID-19 pandemic has caused the cancellation of several key fundraising events, making virtual events like this even more important.

Boothy's day will start at 8.30am and his progress will be shared across the Town Foundation's Social Media platforms, listed below.

Your donations and messages of support will be a great motivator for him, with the more of both received meaning he will have to take on more seats!

For context, Alan Shearer and Robbie Savage took on the challenge of sitting in Wembley Stadium's 90,000 seats in 2014 – it took them five days!

Donations can be made via the events dedicate Just Giving page – https://justgiving.com/campaign/ChallengeBoothy.

A contribution of £5 will feed a child a healthy breakfast for three weeks at our 'Early Kick- Off' Breakfast Clubs, whilst £10 will allow the Foundation to deliver a walking group for individuals with disabilities.

£30 will provide an hour of mentoring for a young person by one of the Foundation's qualified coaches.

Ahead of the challenge Boothy, who scored 150 goals for his boyhood club, said:

"The Foundation does fantastic work in the community and it's a privilege to be able to give something back, whilst raising vital awareness and funds for such a good cause.

"It's going to be a really tough challenge as my 20 years as a footballer has taken its toll on my knees, but I'm hopeful that encouragement from my fellow Town supporters will get me through the day!"

You can find us on social media via the following handles:

Twitter – @htafcfoundation

Facebook – @htafcfoundation

Instagram – @htafc_foundation

LinkedIn – @HuddersfieldTownFoundation

We look forward to seeing your #WearBlue photos and videos throughout the day and will be on the lookout for the best ones to give Town related prizes for!

For further information on what is taking place on the day, include a live virtual PE session, please click here.

If you require any further information please contact Lisa Bottomley on lisa.bottomley@htafcfoundation.com or 07741 671596.