25 Mar

FOUNDATION DEGREE: FINDING THAT WORK/STUDY BALANCE

September 2020 saw the Huddersfield Town Foundation launch its two-year foundation degree in Community Football Coaching & Development for the first time.

As recruitment to the 2021/22 cohort continues, we thought we'd tackle a frequently asked question that gets asked across the network: can I continue working whilst studying?

A group of six students enrolled on the programme, which is run in partnership with the EFL Trust and University of South Wales (USW).

One of those students was Josh Smith, one of the Foundation's longest-serving staff members having joined in 2012.

Josh works as a community coach, delivering Premier League Primary Stars sessions in partner schools as well as coaching on holiday camps.

Upon learning that the Foundation would be running a degree programme he enrolled in order to further his development as a coach, with a particular interest in sports science.

The first year of the course has of course coincided with the COVID-19 pandemic, meaning that has been able to focus more of his time than anticipated on his studies.

However, as life starts to return to some kind of normality, the lectures and workshops are flexible enough to fit around the working day.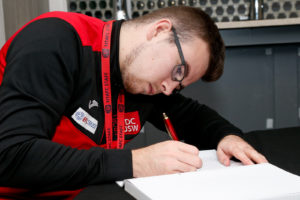 Another tangible benefit of the EFL Trust/USW degrees is the clear career pathways they provide, with the ability to work in a Club Community Organisation being a fantastic starting point.
Brad Fox completed the foundation degree in Community Football Coaching & Development between 2016 and 2019, whilst working as a Disability Officer for the Sheffield Wednesday Community Programme.
Now working for the Town Foundation as an Education Mentor, Brad teaches the degree and facilitates work-based learning for our students – all while studying for a master's degree in Leadership in Sport himself!
On the purpose of the degrees, Brad said:
"Their main aim is to get people industry experience while studying. Being able to work in community sport and see the impact it has on local people is a great way to learn.
"With the support of your club and EFL mentors, you will also be able to develop your own coaching philosophy going forwards."
The Town Foundation will deliver both the Community Football Coaching & Development and Sports Coaching & Development programmes in the 2021/22 academic year.
If you are interested in enrolling in either programme, please complete our ONLINE FORM and a member of our Education team will be in touch. You can also find more information on the programmes HERE.