23 Apr

REGULAR GIVING SCHEME GIVES SUPPORTERS CHANCE TO CONTRIBUTE TO THE FOUNDATION MONTHLY

The Huddersfield Town Foundation is today launching its Regular Giving Scheme, giving supporters the option to make a monthly donation in support of its charitable work.

A suggested contribution of just £5 per month will enable the Foundation to feed a child at one of its 41 Breakfast Clubs for three weeks.

As the scheme launches, Chair of Trustees J Ann Hough has the following message explaining how it works and to give an update on the Foundation's activity:

Dear Valued Supporter:

I hope this finds you well, and that you and your family are enjoying the extra freedoms allowed following the easing of Government restrictions earlier this month.

This is an exciting time for the Huddersfield Town Foundation, the Club's official charity, with more of our in-person delivery returning weekly throughout Kirklees.

It's been great to see so many happy faces at our sessions based at Leeds Road Sports Complex, as well as in our partner primary and secondary schools. I know our excellent team of staff are looking forward to restarting more sessions and events in the coming weeks and months.

Despite the challenges posed by the COVID-19 pandemic, the Foundation has been able to adapt its delivery to still meet the needs of the local community.

We have also introduced two new programmes over recent months, one of which supports care leavers and the other a weight management programme for men aged 40+.

In my role as Chair of Trustees, I am excited to share details with you of the Town Foundation's newest Fundraising initiative – the Regular Giving Scheme.

The scheme asks for a monthly contribution to the Foundation via direct debit and is administered online via Virgin Money Giving.

I ask you to consider making a suggested contribution of £5 per month, an amount that will enable the Foundation to feed a child a healthy, nutritious meal at one of its Breakfast Clubs every school day for three weeks.

When totalled over the course of 12 months, that contribution would feed a child for 36 weeks – just short of a whole school year.

£5 could also buy a young person attending one of our Premier League Kicks sessions a pair of shin pads, or contribute towards vital educational resources for our college students.

The pandemic has of course had a significant impact on us all, and one of the main reasons for using Virgin Money Giving is that it gives you the option to enter a custom amount to give monthly, with the minimum being £1.

Anything you can give, whatever the amount, will truly make a difference to the lives of local people and will be greatly appreciated by everybody at Huddersfield Town. You are of course also welcome to give more than the suggested £5 per month, should you wish.

To sign up to the direct debit scheme, please CLICK HERE. If you do sign up we would really encourage you to agree to us being able to further contact you, so that we can keep you up to date with the Foundation's fantastic work via our newly planned newsletters.

All regular givers that sign up and consent to being contacted will be entered into draws throughout the year to win Town-related prizes, courtesy of the Town Foundation.

If you are unable to commit to a monthly contribution but would still like to support the Foundation, the Foundation's Virgin Money Giving page also gives you the option to make a one-off donation. Alternatively, you can donate via text message.

To donate £1, text HTF to 70201

To donate £3, text HTF to 70331

To donate £5, text HTF to 70970

To donate £10, text HTF to 70191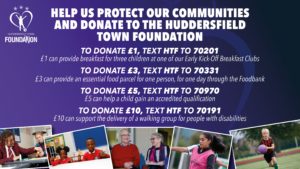 It is important to note that all money donated will go directly into the Foundation's unrestricted funding pot, meaning it will be used to support a range of the community projects from Breakfast clubs to Sporting Memories to Children in Care.
If you have any questions about the Regular Giving Scheme, please do not hesitate to get in touch with the Town Foundation's Fundraising Coordinator at lisa.bottomley@htafcfoundation.com.
I would personally like to thank you on behalf of the Town Foundation's trustees for taking the time to read this update and for your unwavering support, which has always been evident since the Foundation's formation but has reached an extra level in the past 12 months.
I look forward to seeing you back at the John Smith's Stadium and at Town Foundation events, all being well, in the 2021/22 season.
Kindest regards,
J Ann Hough
Chair of Trustees, Huddersfield Town Foundation