21 May

FOUNDATION MAKES DOORSTEP VISITS TO SPORTING MEMORIES PARTICIPANTS

Huddersfield Town Ambassador Andy Booth recently joined Town Foundation staff in visiting local people in-person as part of the Sporting Memories programme!

The visits took place during Dementia Action Week, with Sporting Memories designed to support those living with the syndrome or at risk of isolation.

Since January 2021, the Town Foundation has delivered the programme virtually via Microsoft Teams.

However, given that not everybody has the capability to join such online activities, we thought we'd take Sporting Memories directly to Jonathan, 58 and Michael, 77, who had expressed an interest in the scheme.

Despite the unfavourable weather, they each spent an hour in their back gardens with our staff reminiscing about previous football events with the help of 'Book of Football' magazines.

They also utilised the Sporting Memories Foundation's 'Sporting Pink' newsletters, which contains articles, quizzes and games, such as Spot the Ball.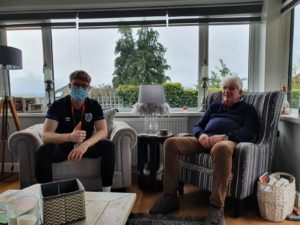 Boothy was on hand to visit Jonathan in Meltham, with the pair discussing their shared love of cricket amongst other things.
Lepton-based Michael, a season card holder at the John Smith's Stadium, enjoyed going through the magazines and reminiscing about former years.
Boothy is a regular attendee of our virtual Sporting Memories sessions, which take place between 10.30am and 11.30am every Monday and 1pm and 2pm every Friday.
The sessions are open to people of any age but are tailored toward those over the age of 50, with participants able to contribute as much to the session as they wish. There is no strict requirement to attend a certain number of sessions either.
You also don't need to be a Huddersfield Town supporter, with a range of clubs and sports being discussed.
Should you or somebody you know be interested in taking part, please contact Health Coordinator Evan Hall on evan.hall@htafcfoundation.com or 07741 671 599 and he will send you the joining details.