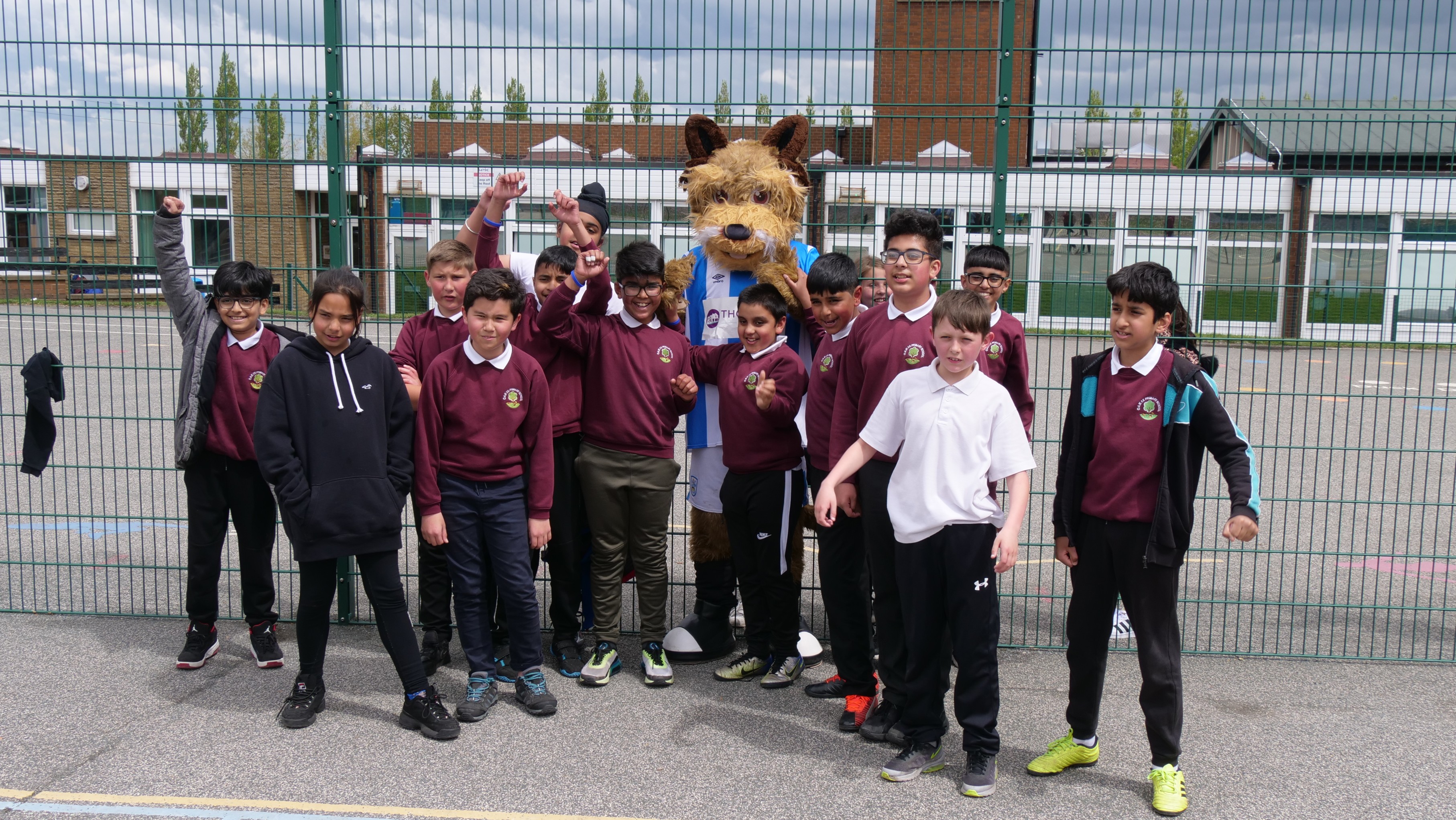 24 May

TERRY THE TERRIER VISITS OAK CE PRIMARY DURING SCHOOLS' FOOTBALL WEEK!

Students at Oak CE Primary School were surprised by a special visitor to mark the start of Schools' Football Week!

Terry the Terrier greeted Year 6 pupils at the school in Crosland Moor as they took part in their weekly lunchtime football competition organised by the Town Foundation.

Oak Primary is one of the Town Foundation's partner Premier League Primary Stars schools, with staff providing in-school support every Monday and Tuesday.

Throughout the spring term the Year 6 classes have played against each other in the school's outdoor play area, with a tournament winner set to be crowned after half term.

The pupils were ecstatic to see Terry and it was great to see so many smiley faces amongst them.

Schools' Football Week, a campaign organised by the English Schools' Football Association (ESFA), is designed to give teams, clubs and schools across the country the chance to embrace the wellbeing benefits of playing football.

The ESFA have outlined 15 benefits of playing schools' football including the reduction of anxiety and stress, improving communication skills, encouraging teamwork and reducing obesity.

Students at the Town Foundation's other Primary Stars partner schools are also taking part in the initiative, playing football and using No Room for Racism classroom resources provided by the Premier League.

Primary Stars is a national programme delivered across Kirklees and Calderdale by the Town Foundation.

Sessions are tailored to your school's needs and designed to ensure close alignment with the National Curriculum, with subjects covered including Literacy, Numeracy, PSHE and PE.

Schools are actively encouraged to express their interest in signing up for the 2021/22 academic year. If you would like to register your school's interest or would like further information, please contact Primary Stars Manager Ruby Marlow on ruby.marlow@htafcfoundation.com.