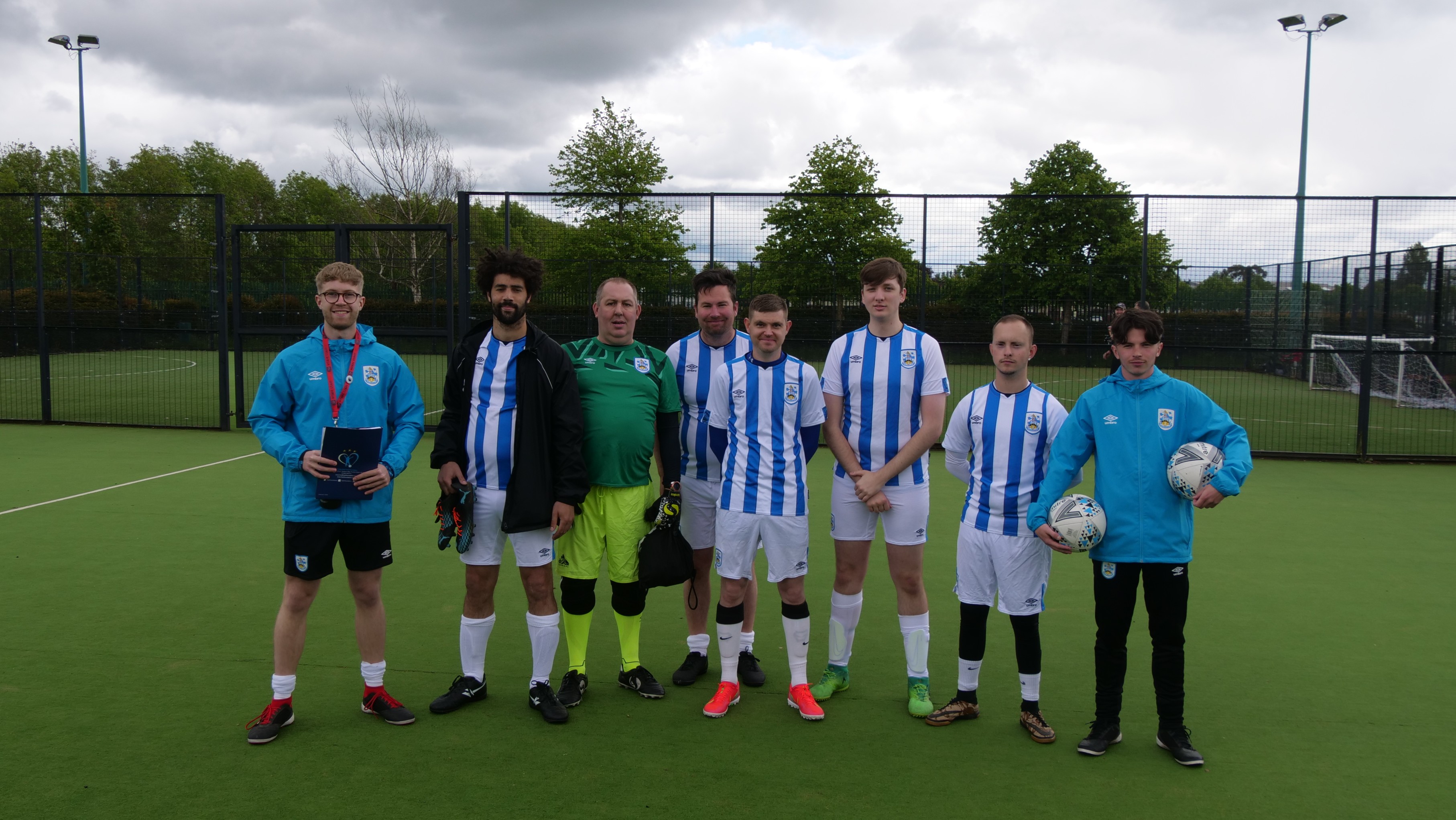 28 May

MENTAL HEALTH FOOTBALL PARTICIPANTS COMPETE IN SIX-A-SIDE TOURNAMENT!

The Huddersfield Town Foundation's Mental Health Football participants recently took part in a six-a-side tournament in Huyton, Liverpool!

Teams from across the UK travelled to compete in the Mental Health Football Association's inaugral league cup on Saturday 22 May.

A total of 16 teams took part, with the tournament split into two groups which preceded the semi-finals and final.

The Town Foundation lost out to Liverpool Football therapy, who went on to win the tournament, in their first fixture before taking on and narrowly losing to an All Stars/Celebrity team.

After gaining more of a team understanding and picking up the pace of the tournament results started to improve, with the team recording impressive 1-0, 3-0 and 3-1 victories over Chester FC, 'Place 2 Place' and 'Man Marking' respectively.

Despite missing out on qualification from the group, the players enjoyed the experience and look forward to competing in similar events in the future.

With that in mind, if you run a similar programme at another Club Community Organisation and would like to organise a fixture, please do get in touch on the details below.

Matthew Burns, who played in goal for the Town Foundation on the day, said:

"My friend started coming to the session every Thursday, so I decided to go along as well. For me it's about pushing myself to do things, rather than saying no I don't want to.

Without the sessions I'd be sat at home by myself doing nothing, but now I'm hear with all the lads and it's great fun."

The Town Foundation runs a Mental Health Football session from 12.30pm-2pm every Thursday at Leeds Road Sports Complex, HD2 1YY.

This is open to anybody that may be living with a mental health issue or have experienced one previously, with the session design to be friendly, inclusive and encourage participants to build new friendships.

Sessions are free to attend and can be booked by emailing the Town Foundation's Health Coordinator Evan Hall on evan.hall@htafcfoundation.com.

You can also contact Evan should you require any further information or would like to enquire about any of the Foundation's other Health projects.