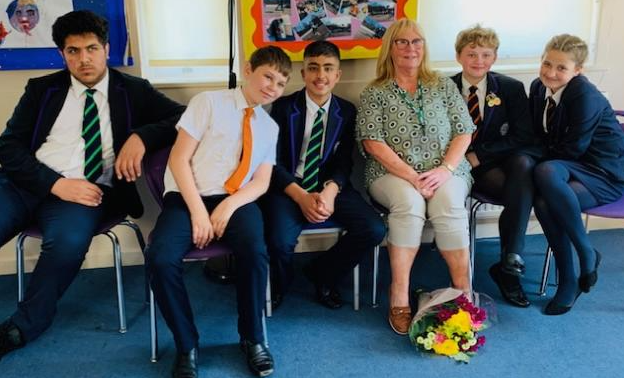 05 Aug

HIGH SCHOOL STUDENTS HEAR FROM WIDOW OF MURDER VICTIM AS PART OF PEAK PROJECT

Students engaged with Positive Engagement Against Knives (PEAK), a partnership project with West Yorkshire Police, were recently visited by Birstall resident Elaine Wilson.

Elaine's husband, Robert Wilson, was killed in Manchester Road, Linthwaite in January last year, with the killers now jailed for life.

Now wanting to turn something negative into a positive whilst honouring her husband's life at the same time, Elaine visited a workshop at Westborough High School.

PEAK is run in partnership with the Kirklees District Early Action Team and was started in 2019 with Proceeds of Crime Act funding.

The project supports young people to help make them feel safer, realise their potential and improve community cohesion.

Elaine took the time to give the students a powerful account of what happened to her husband Robert, before answering any questions that they had.

On the experience, she said:

''We've always thought as a family that some good needs to come out of this. We were shocked at how young Robert's killers were, and we are concerned about what is happening in our community.

"It's important to get the right message out and support young people in this way, which is why I am so keen to support the positive work of the PEAK Project and do what I can."

John Keyes, a Youth Engagement Consultant at the Town Foundation added:

"As part of my role with the Foundation we aim to aspire young people to reach their full potential. This partnership project has had a positive influence on students, their choices and future and we are grateful for Elaine's involvement."

The Kirklees District Early Action Team, consisting of PCs Paul Jackson and Richard Booth, added:

"The young people who have been part of this project have been fantastic and their engagement levels have been really impressive.

"We have seen significant improvement in pupils' behaviour and the project enables us to improve relations between Police and young people. We are extremely grateful for Elaine's support and after everything she has been through this is very brave and shows immense strength."

If you would like further information about the Positive Engagement Against Knives project, please email enquiries@htafcfoundation.com and a member of the team will be in touch.