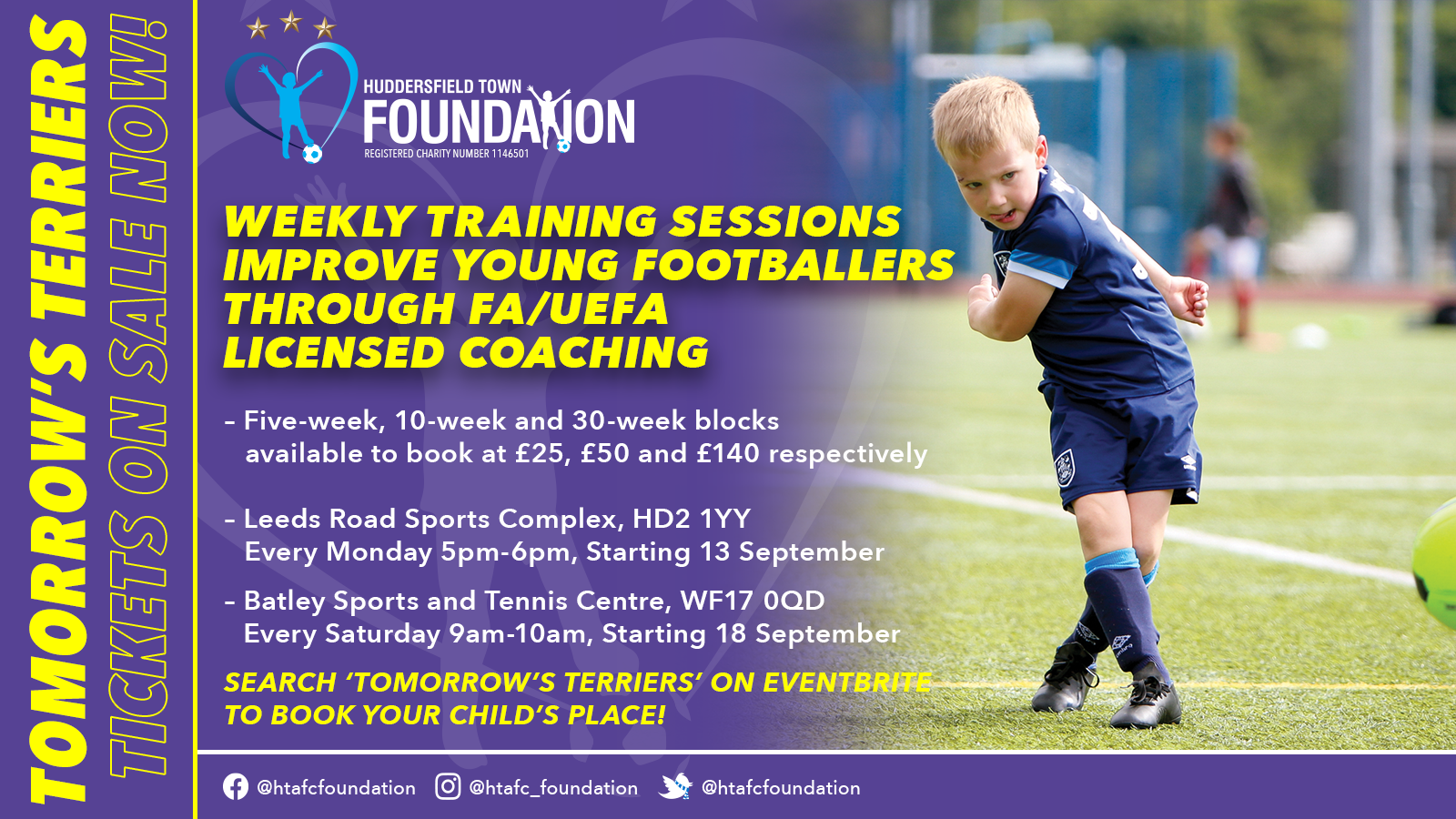 13 Aug

TOMORROW'S TERRIERS FOOTBALL RETURNS WITH WEEKLY TERM-TIME SESSIONS!

Young footballers can develop their skills with the Huddersfield Town Foundation's Tomorrow's Terriers programme!

The programme's weekly sessions will return in September at two different locations: Leeds Road Sports Complex and Batley Sports & Tennis Centre.

Taught by the Foundation's FA/UEFA Qualified coaches, it aims to develop participants as people as well as players in a high quality environment.

Coaches use the four-corner model; Social, Psychological, Physical, Tactical/Technical to do this.

The Leeds Road Sports Complex programme starts on Monday 13 September and takes place every Monday thereafter, running from 5pm – 6pm.

Saturday 18 September will be the start of the Batley course, with sessions taking place between 9am and 10am.

Sessions are open to all children between the ages of 5 and 11 and groups will be split into 5-8 and 9-11 year olds.

Content will fall in line with the FA's Foundation Phase model, giving children plenty of contact time on the ball to build their fundamental skills and the confidence to express themselves on the pitch.

These sessions are designed to compliment grassroots players with ambitions to push themselves to the next level, as well as accommodating young people who want a fun first time experience learning football.

Tickets can be booked in a five-week, 10-week or 30-week block, which are priced at £25, £50 or £140 respectively.

To book, please visit the relevant Eventbrite page linked below:

Batley Sports and Tennis Centre

The Foundation asks that every child wears clothing and trainers appropriate for a 3G surface, as well as shinpads. They should also bring plenty to drink.

All Town Foundation coaches are child safeguarding & emergency first aid certified and enhanced DBS checked.

If you would like any further information on the Tomorrow's Terriers programme, please contact Community Coach Lewis Smith via email: lewis.smith@htafcfoundation.com.

The Town Foundation is also set to run another football camp for primary aged children during October Half Term, Monday 25 – Friday 29 October 2021. If you would like to be notified when these tickets go live, please email Nicola.barr@htafcoundation.com.