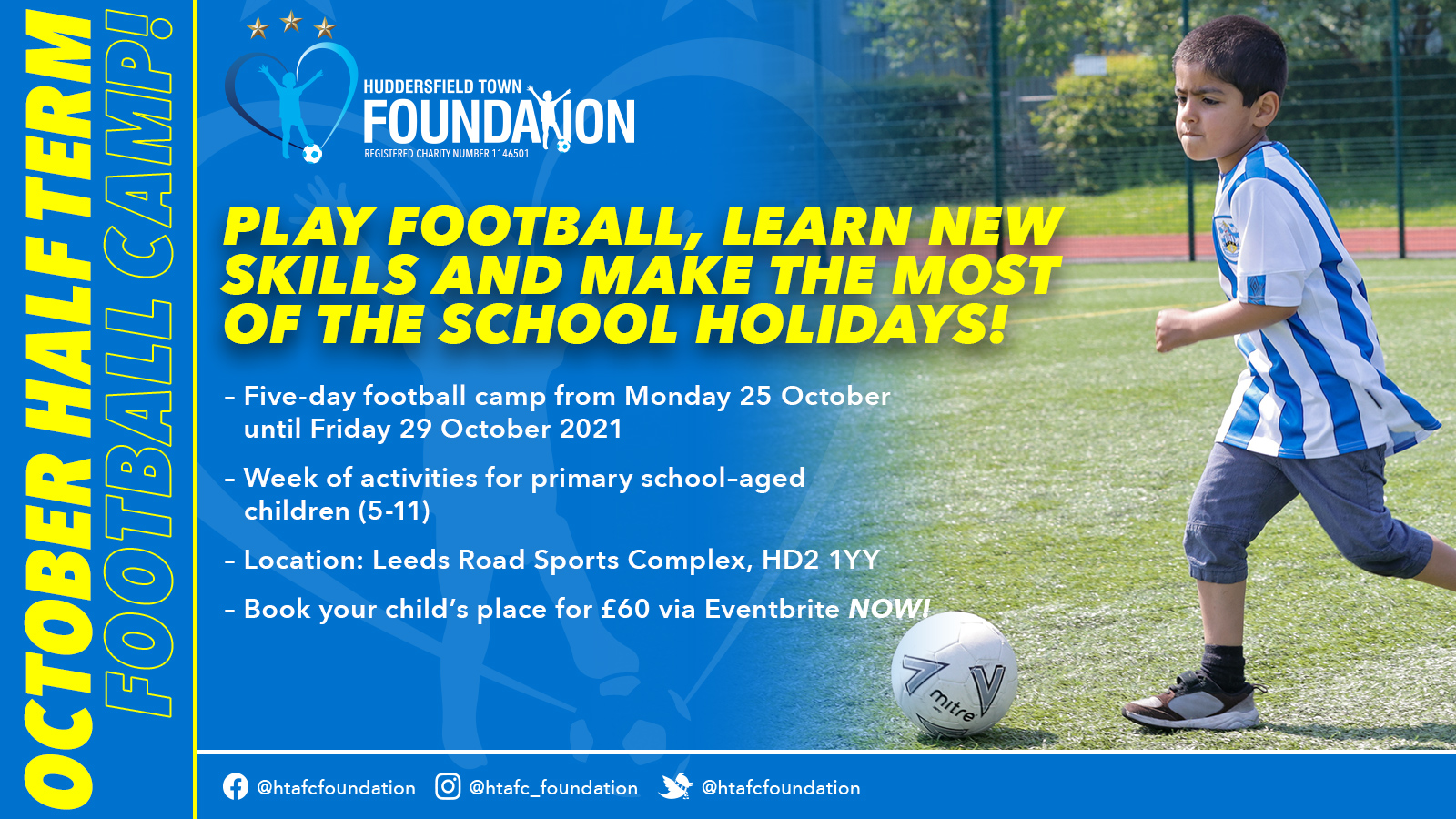 15 Sep

SECURE YOUR CHILD'S PLACE ON OUR OCTOBER HALF TERM CAMP!

The Huddersfield Town Foundation is looking forward to hosting a football camp for primary school aged children during October half term!

Following a successful summer of delivery this is another chance for youngsters to receive quality football coaching whilst taking a break from school.

Participants are split into age groups, with each day containing a range of activities designed to keep energy and fun levels high.

Children can also expect to receive a Town Foundation certificate and medal to celebrate their achievements at the end of the week.

The five-day ticket is priced at £60 per child and can be booked online via the Town Foundation's EVENTBRITE PAGE.

The camp starts on Monday 25 October and will finish on Friday 29 October 2021.

Each day will start at 9.30am and finish at 3pm and take place at Leeds Road Sports Complex, HD2 1YY. Unfortunately we are unable to offer any early drop off or late pick up option.

Parking is available on site – please head to main reception on arrival and a member of staff will be there to greet you.

Children will be required to wear clothing (including shinpads) and footwear appropriate for a 3G surface and should bring a packed lunch and plenty to drink. A lunch break will be factored into each day.

All Town Foundation coaches are FA qualified, child safeguarding, emergency first aid certified and enhanced DBS checked.

If your child is displaying any COVID-19 symptoms, we ask that they do not attend this camp.

If you would like any further information, please contact us via email: enquiries@htafcfoundation.com or telephone: 01484 468205.