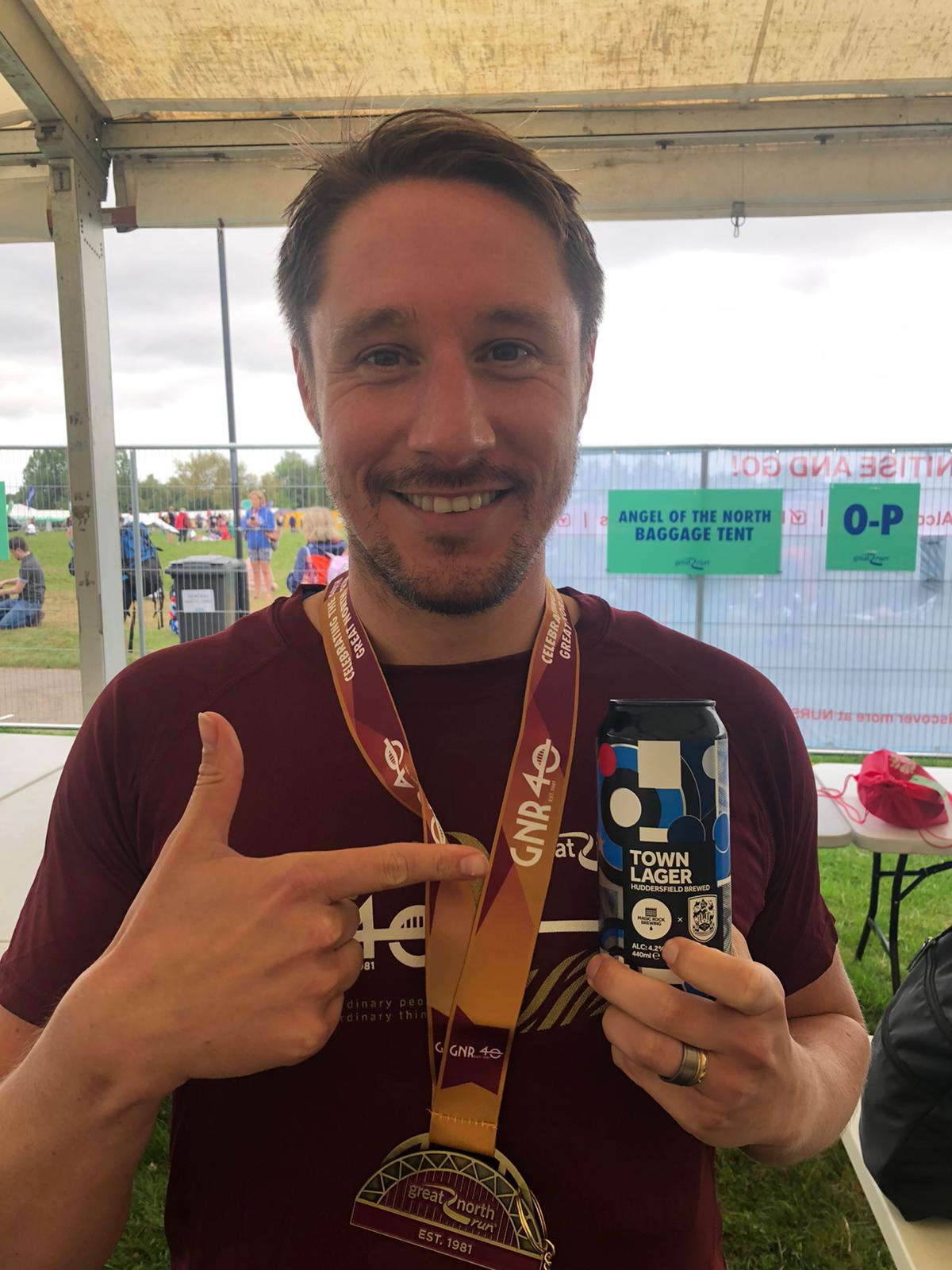 23 Sep

GREAT NORTH RUN SEES RUNNERS RAISE MONEY FOR THE TOWN FOUNDATION!

On Sunday 12 September the Huddersfield Town Foundation was represented at the Great North Run!

The runners donned their Foundation-branded blue running vests and hit the streets of Newcastle to raise money for the club's registered charity.

Being a half marathon, the event is a good test of both mental and physical fitness with a real sense of achievement upon crossing the finishing line.

The 2020 edition of the race took place virtually, with runners completing the 13.1 miles from their doorstep.

However, with a slight re-design of the course to allow for social distancing amongst spectators it was great to see the event return to Tyneside this year.

The Foundation's thanks go to club partner Magic Rock Brewing, who kindly provided the runners with a goodie bag of treats after crossing the finishing line!
Town's Academy Goalkeeping Coach Neil Bennett was one of the runners and said of the experience:
"It really was an inspiring day that my words just won't do justice. I know it's been a tough year or so for a lot of people and as we were coming out of lockdown I had plenty of time to reflect and I wanted to do something positive that could benefit other people.
"I thought the Great North Run was a great opportunity to do that as I know the Foundation do some great community projects. The hardest bit was the training, but I mixed it up with running and biking which helped out my old joints.
"I enjoyed it that much that I will definitely do it again. Thanks to everyone who sponsored me, hopefully with gift aid I will have raised over £800!"
Sam Thornton, a Town fan who also hit the tarmac added:
"I absolutely loved being involved in the 40th GNR event- although my legs didn't at about mile 11! I ran it nearly 10 years ago and it was just as good, if not better than I remembered for atmosphere and pageantry. I think the biggest challenge this year was the recovery- I definitely felt it more this time around.
"I see first-hand in my local community just how much the Foundation does for children and adults alike. Being able to raise some money for them was a real privilege and I know the funds will go a long way to helping a lot of vulnerable people in our area."
The Foundation intends to apply for places in the 2022 Great North Run. If you would like to register your interest in taking one of those places, please contact fundraising@htafcfoundation.com.
Keep an eye on www.htafcfoundation.com and our social media pages in the coming weeks for updates on the London Marathon, which is taking place on Sunday 3 October. The Foundation will be represented there also!
Supporters are always welcome to complete a fundraiser for the Foundation, with our team on hand to provide assistance if needed.
Alternatively you can make a donation, whether that be a one-off contribution or monthly direct debit, via Just Giving – https://www.justgiving.com/HuddersfieldTownFoundation.