05 Nov

HUDDERSFIELD BID SPONSORS UPCOMING LADIES LUNCH EVENT!

The Huddersfield Town Foundation is delighted to announce Huddersfield BID as the sponsor of its sold-out 'Fizz Friday' Ladies Lunch event!

150 guests are set to attend the event at the Manor House, Lindley, on Friday 19 November 2021, which aims to raise money to support the Foundation's work.

Guests will enjoy welcome drinks followed by a two-course meal, before learning more about the Foundation's impact and taking part in a range of fun activities that will help raise funds.

Huddersfield BID (Business Improvement District) is a not-for profit company run by businesses in the local area.

Its aim is to develop Huddersfield into an accessible, safe, vibrant and attractive destination which celebrates its culture and heritage, serves its local businesses, university and residential community and is recognised nationally and internationally as a great place to be.

The BID has recently launched 'Hello Huddersfield', a website promoting the best of the town including events, shopping, food and drink.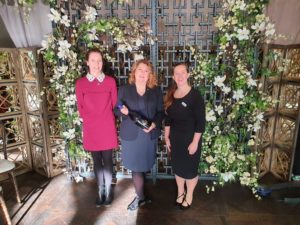 There are also a range of interviews with local personalities and organisations. To take a look at Hello Huddersfield, please CLICK HERE.
On the news of the sponsorship BID Manager Samantha Sharp commented:
"The Huddersfield Town Foundation provides a wonderful service to young people in the region and enables individuals from all communities to experience and take part in enriching, inspiring activities.
"Huddersfield BID are proud to sponsor the Ladies Lunch 'Fizz Friday' event and raise money for the worthy activities the Foundation provides such as breakfast clubs, sports coaching and education initiatives."
Town Foundation Chief Executive Siobhan Atkinson added:
"I'm delighted to welcome Huddersfield BID as our sponsor for such a fantastic event in our calendar. Securing a headline sponsor of this quality adds real value to our event and will help us in raising essential funds that will be used to help those in need locally.
"It's just brilliant to see local businesses supporting a local charity particularly after the difficult 18 months. We look forward to a developing partnership."
If you would like to learn more about Huddersfield BID, please CLICK HERE.
Similarly, further information about the Town Foundation's Fundraising activity can be obtained by visiting the 'News & Events' tab on www.htafcfoundation.com or contacting fundraising@htafcfoundation.com.