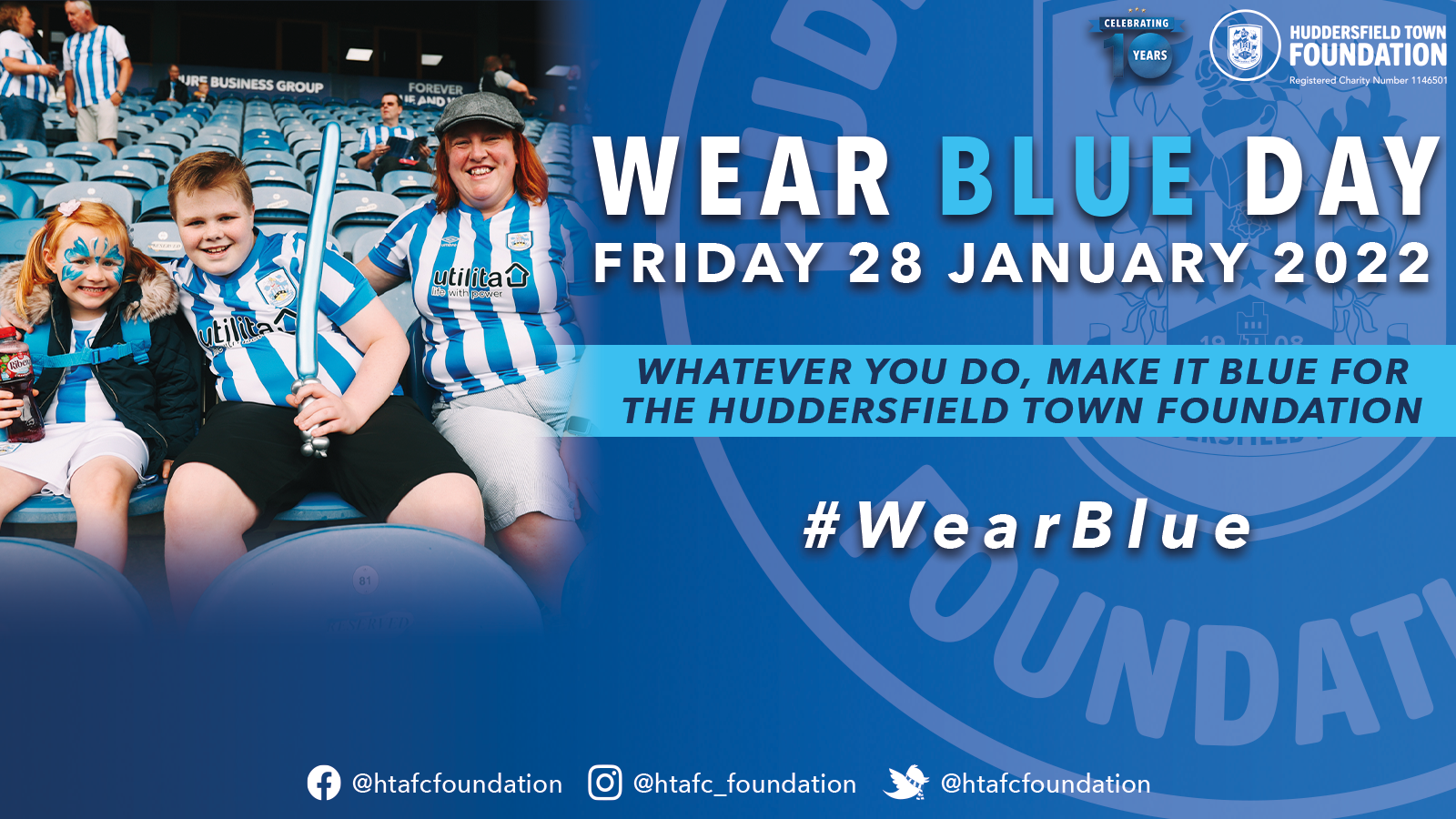 03 Jan

WEAR BLUE DAY FUNDRAISER SET FOR FRIDAY 28 JANUARY!

Friday 28 January is the Huddersfield Town Foundation's annual Wear Blue Day event, with supporters encouraged to show their colours wherever they are!

The aim is to incorporate some fun into your day whilst raising money for the club's official charity, which will be used to support its vital Breakfast Club programme.

With 2022 also being the Town Foundation's 10th anniversary year, this is the perfect chance to go all out and make anything you do blue.

In previous years, local businesses have held blue cake sales and encouraged staff to wear blue on the day.

Schools are also encouraged to take part, with ideas including holding a non-uniform day, using blue pens to create a drawing, decorating your classroom or reading a book with a blue cover. Whatever you do, make it blue!

The school that raises the most money will receive a visit from a member of Huddersfield Town's first-team squad and Terry the Terrier, subject to availability!

This year, Wear Blue Day falls on the same day as Huddersfield Town's home Sky Bet Championship fixture against Stoke City at the John Smith's Stadium!

With the match being broadcast live on Sky Sports, why not wear your Town shirt with pride and make a donation the Foundation, whatever amount you're comfortable with.

Anybody taking part in the event is encouraged to share their activities on social media using the hashtag #WearBlue.

Alternatively, supporters are welcome to share their photos via email to ashley.colbourn@htafcfoundation.com.

Funds raised can be donated either online via Just Giving page (CLICK HERE) or via direct bank transfer to the following details:

Account Number: 46992760 Sort Code: 30 – 94 – 43

The quickest way to make a donation is via text message. You can text HTF to 70201 to donate £1, or text HTF to 70331 to donate £3.

Last year, club Ambassador Andy Booth and ex player Matt Glennon took on a John Smith's Stadium seat challenge to mark the day. You can take a look back at how they got on HERE.

Since 2012, the Breakfast Club programme has served more than two million free meals to local children. Now operating at 41 schools, it costs £140,000 per year just to run this one project.

If you would like any further information, please contact the Foundation's Fundraising Executive Lisa Bottomley via email: lisa.bottomley@htafcfoundation.com or phone: 07741 671 596.