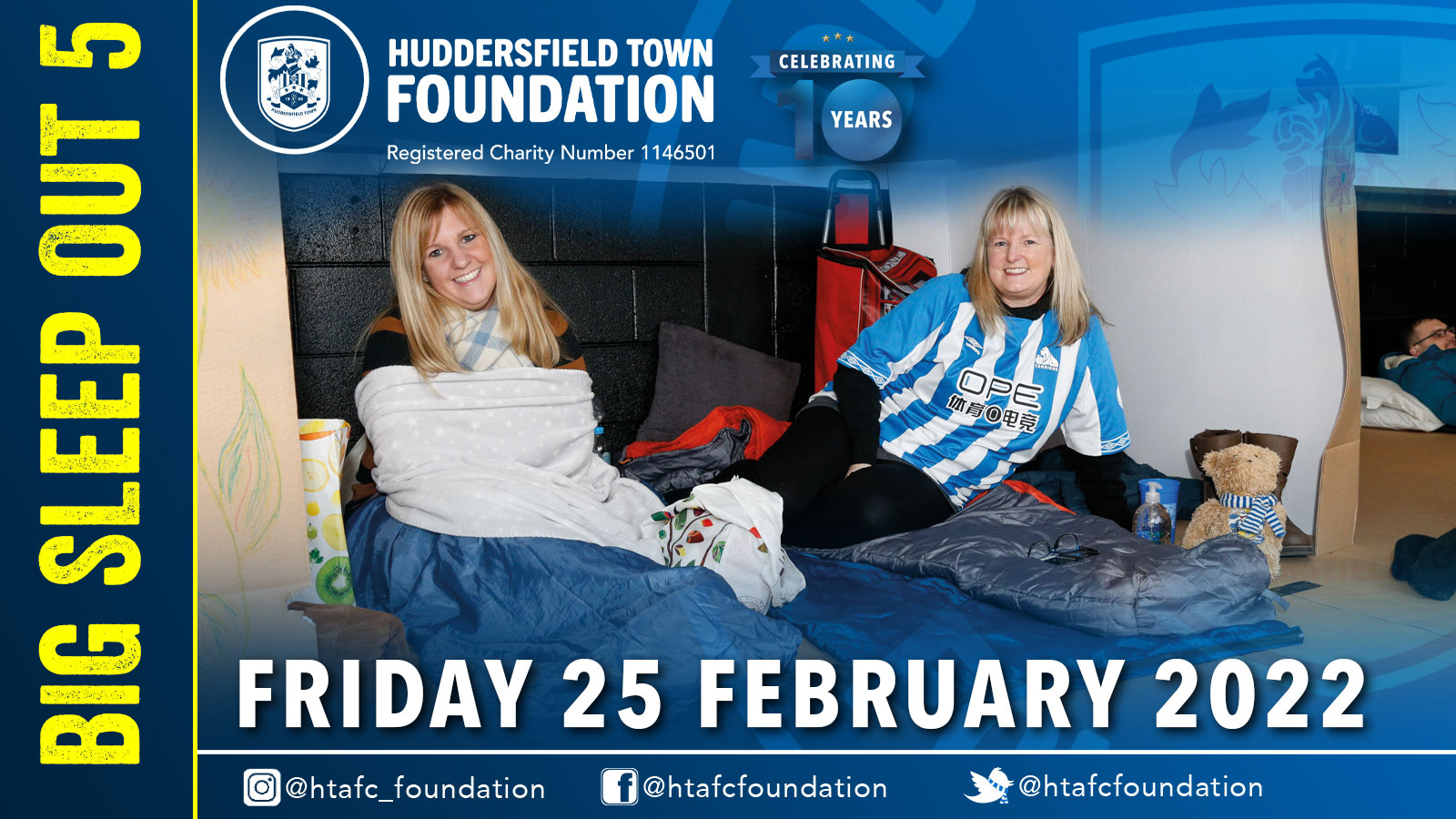 13 Jan

BIG SLEEP OUT SET FOR FRIDAY 25 FEBRUARY!

We Need You! Come and join us in sleeping out at the John Smith's Stadium when the Huddersfield Town Foundation hosts its Big Sleep Out for the fifth time.

After reverting to a virtual event last year, the Foundation is delighted to be able to welcome supporters back to the home of Huddersfield Town on Friday 25 February.

With 2022 being the Foundation's 10th anniversary year, this is the perfect chance to take on a new challenge and raise as much money as possible for good causes.

Those that take part are encouraged to raise a minimum of £100, which will be shared between the Town Foundation's Breakfast Clubs and local organisations tackling poverty.

Previous beneficiaries include Basement Recovery Project, who received £2,160 towards furniture for a new supported accommodation unit and Dewsbury Community Outreach, who used their £1,500 donation to purchase food for their community kitchen.

After arrival at 9pm attendees are able to set up their dens for the night in the Chadwick Lawrence stand, whether that be in the concourse or in the stadium bowl itself.

The event will conclude at 7am the morning after, when participants will say their goodbyes having hopefully had an eye-opening experience.
Although only for one night, the aim is to try and give participants an insight into the struggles that homeless people deal with on a day-to-day basis.
This year, groups of people in particular are encouraged to take part, whether that be families (including children), colleagues, scouts, brownies, air cadets, faith groups or otherwise!
To book your place at the Big Sleep Out, please CLICK HERE.
Should you be planning to come along as a group, each person taking part should be registered separately. This allows the Foundation to properly manage the event capacity. Parents are able to register under 18s as part of their own booking.
After registration you will be sent further details and advice on how to set up a fundraising page, what to bring with you and the order of play for the night.
If you've not taken part in the Big Sleep Out before, CLICK HERE to check out what happened last time the event was held at the John Smith's Stadium, in 2020.
CLICK HERE to take a look back at the 2021 event, which included a show broadcast live from Canalside on #HTTV, Huddersfield Town's YouTube channel.
If you would like any further information, please contact Fundraising Executive Lisa Bottomley via email: lisa.bottomley@htafcfoundation.com or mobile: 07741 671 596 in the first instance.