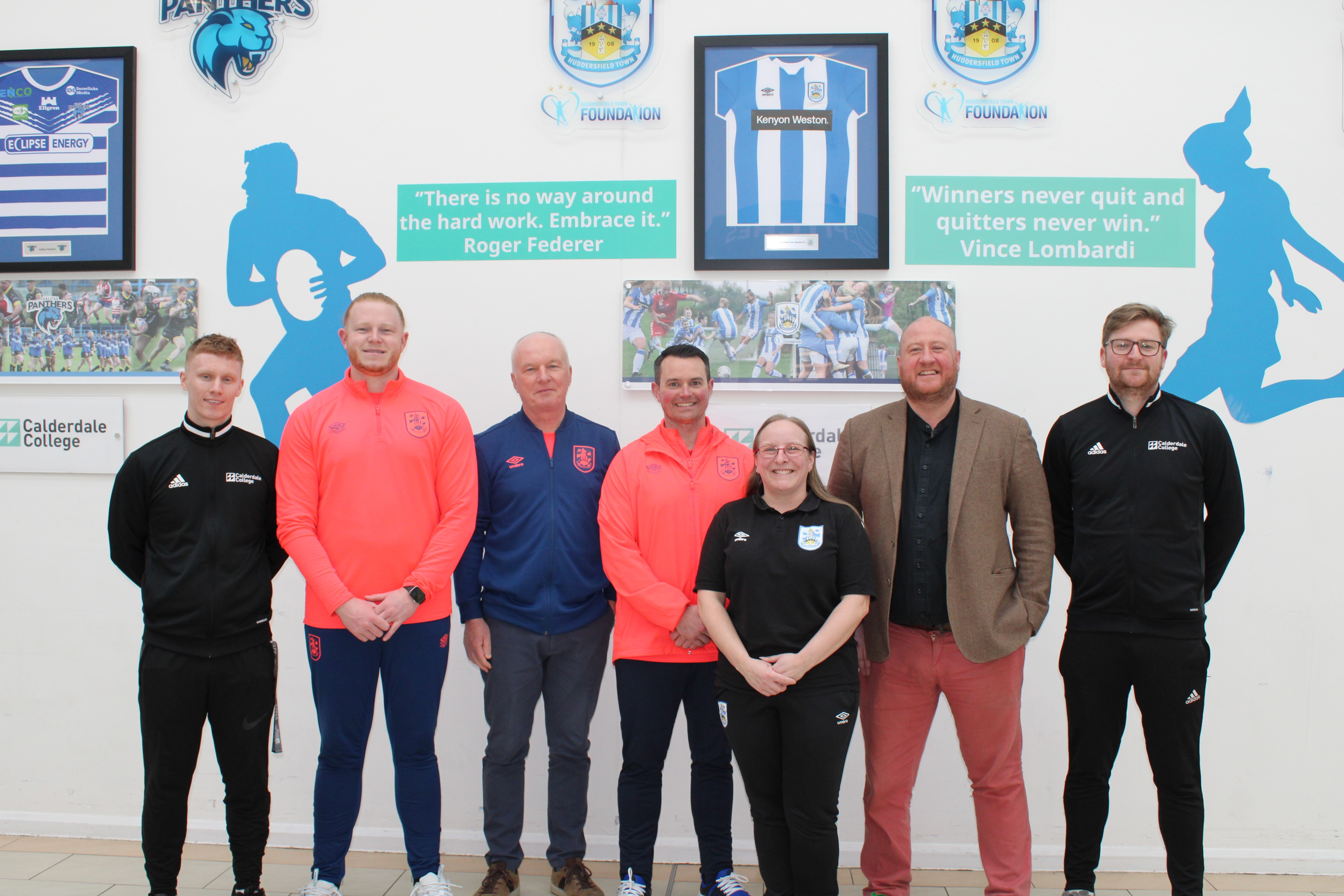 30 Mar

HUDDERSFIELD TOWN WOMEN FORM THREE-WAY PARTNERSHIP WITH TOWN FOUNDATION AND CALDERDALE COLLEGE

The Huddersfield Town Foundation is delighted to welcome Huddersfield Town Women into its existing partnership with Calderdale College!

Now a three-way partnership, the output is its Women's Football Academy which gives 16-19 year old females the chance to play football alongside their studies.

In the 2021/22 season the team have played matches in the EFL's Community and Education Football Alliance league, taking on teams representing the community arms of other professional football clubs.

The involvement of the Women's team is designed to give students a more defined pathway through to their first and development teams, which play in the FA Women's National League Northern Premier Division and FA Women's National League Reserve Northern Division respectively.

To achieve this, HTAFC Women players will attend training periodically and students will be encouraged to attend fixtures at the Stafflex Arena.

On the news Alison Bamforth, Chair of Huddersfield Town Women commented:

"I am delighted to take the opportunity to bring Huddersfield Town Women into this great partnership. The potential of consolidating a pathway for female footballers in the area is clear, and I know that several players from our junior teams are already excited to join the Women's Football Academy."

Craig Waterworth, General Manager of the College's Inspire Centre added:

"Great work has been done between the College and Town Foundation already but having the Women's team involved really shows synergy between all concerned. From the moment we met Alison and Dave Mallin it was clear that to take things to the next level, all parties should be involved.

"This is an extremely exciting time and we hope that the girls of all age groups of the club will be able to see a clear pathway in to the Women's Academy, and vice versa. I am extremely proud and look forward to working closely with both parties."

The Women's Football Academy is now recruiting players for the 2022/23 season!

Players train twice a week with the Town Foundation's FA qualified coaches at the state of the art Inspire Centre, in addition to regular fixtures across the north of England.

They can study any course at Calderdale College, from which 90% of students go onto employment or further study.

In the coming weeks there will be multiple open training sessions, giving young people and their parents the chance to witness the programme in action and hear from staff and current students.

For more information on these or the programme as a whole, please contact Football Development Manager Nathan Thorpe via email: Nathan.thorpe@htafcfoundation.com or mobile: 07741 671 064.