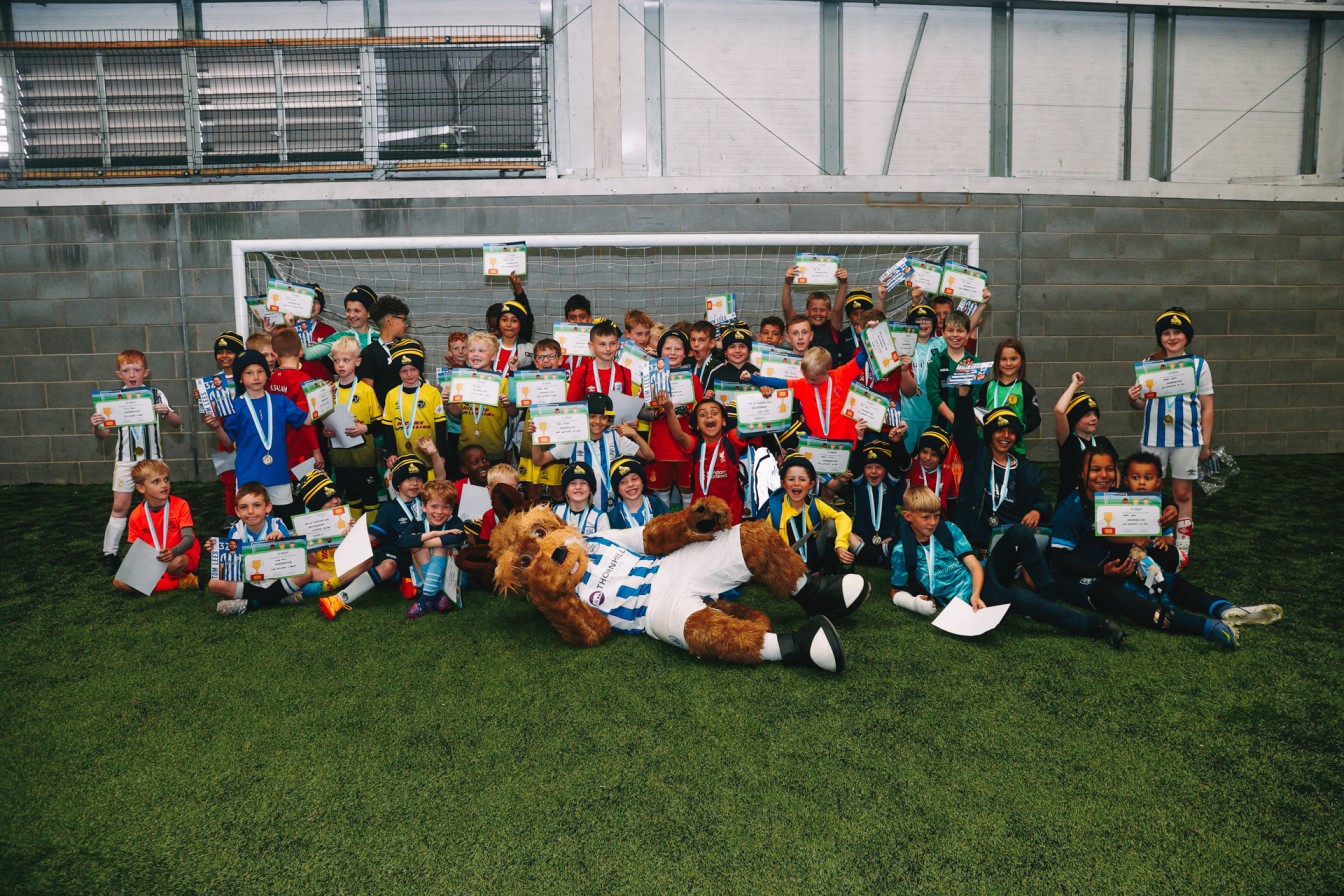 03 Jun

CHILDREN TAKE PART IN HALF TERM ACTIVITIES WITH THE TOWN FOUNDATION!

This week, more than 100 children have engaged with the Huddersfield Town Foundation's school holiday activities!

60 primary school children headed to Leeds Road Sports Complex for three days of football, with a further 30 doing so at St John Fisher Academy in Dewsbury.

Moreover, 18 children aged between eight and 18 with a disability and/or special educational needs took part in two days of multi-sports.

The Foundation's FA qualified coaches deliver football camps every school holiday, with Individual days focusing on different skills like passing, shooting and dribbling.

Despite some challenging weather throughout, it was a pleasure to see the children persevere, make new friends and most importantly, have fun.

At the end of the camp, each child received a certificate signed by Town Head Coach Carlos Corberan and Foundation Chief Executive Siobhan Atkinson and a medal!
They also received a signed player card from Harry Toffolo, Matty Pearson or Tom Lees.

You can view a full photo gallery from the camp at Leeds Road Sports Complex on the Foundation's Facebook page HERE.

The Town Foundation will deliver similar football camps throughout the six-week school holidays, full details of which will be confirmed in due course.

To be notified of when tickets for the summer are on sale, you are advised to follow the Town Foundation on Eventbrite HERE.

Full details will also be advertised on www.htafcfoundation.com and social media: Facebook, Twitter and Instagram.

During term time, primary school children can take part in the Tomorrow's Terriers programme!

Sessions cost just £5 and take place weekly, with children developing socially, psychologically, physically and technically.

Monday night sessions are held at Leeds Road Sports Complex, with Saturday morning sessions taking place at Batley Sports and Tennis Centre.

For more information about Tomorrow's Terriers or to book your child's place, please click the relevant location above.

If you have any queries in the meantime, please email help@htafcfoundation.com in the first instance.