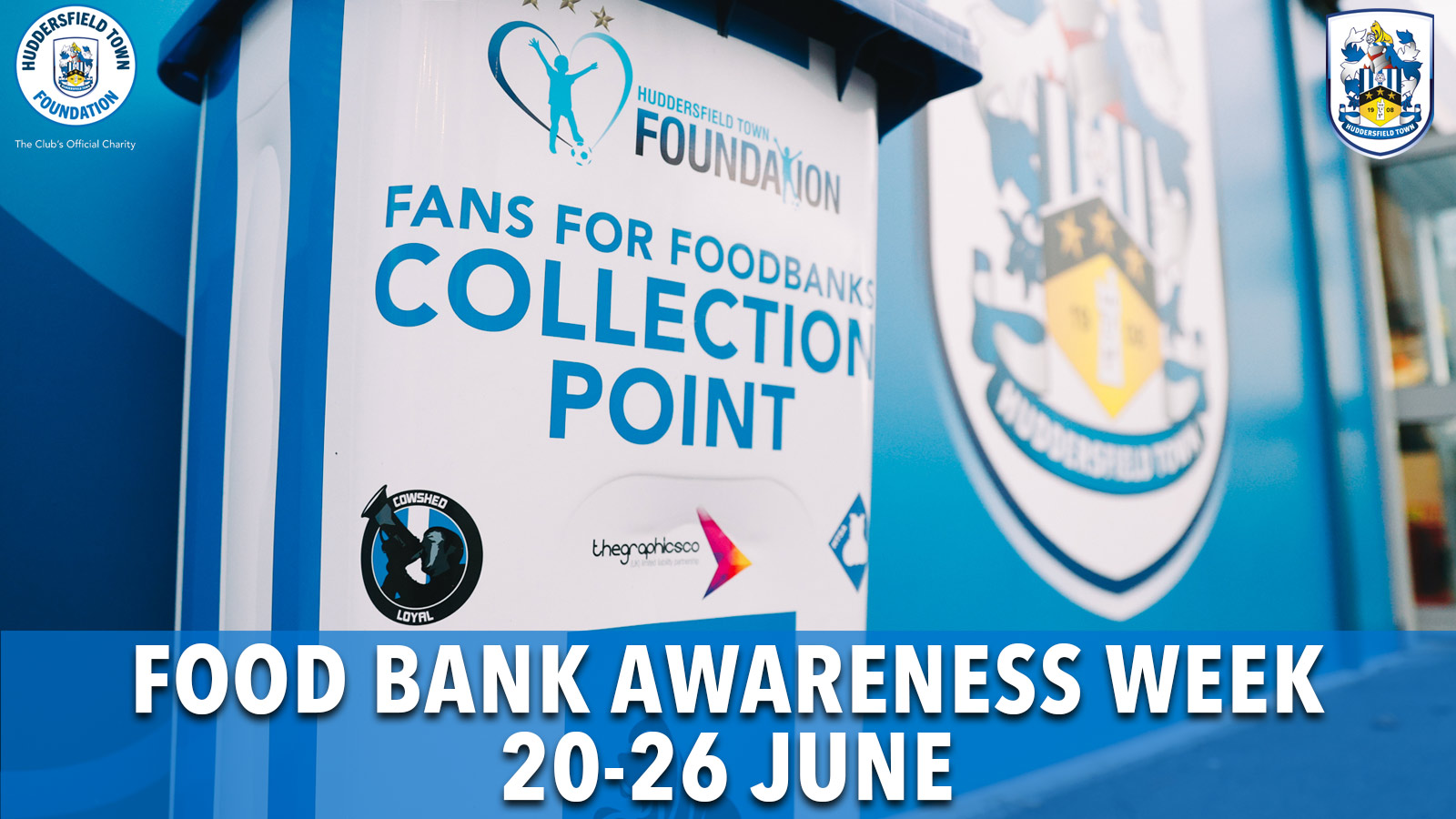 08 Jun

SUPPORT TWO LOCAL FOOD BANKS WEEK COMMENCING 20 JUNE!

The Huddersfield Town Foundation is encouraging businesses, community groups and schools to show their support for two local food banks later this month!

The Foundation's food bank awareness week will take place between Monday 20 June and Sunday 26 June 2022, with the afore mentioned groups encouraged to host a donation point.

All items donated will then be split between Batley Food Bank and the Welcome Centre in Huddersfield, two organisations that have been supported throughout the season via the Foundation's 'Fans for Food Banks' campaign.

Food insecurity is an issue that has heightened since the onset of the COVID-19 pandemic, and something that the Club and Foundation are keen to help address.

During 2021/22, as with previous seasons, donation points have been in place around the John Smith's Stadium ahead of the club's home first-team fixtures.

In addition, the Foundation has partnered with the Salvation Army's Mirfield branch to donate 15 food parcels to a local school every week. The total number of parcels is now nearing 1,000.

Furthermore, £16,000 raised from the Big Sleep Out event over the past five years has been donated to six different food banks.

Now, the idea of food bank awareness week is to continue supporting two great local organisations over the Summer.

To register your interest in hosting a donation point during the week, please email fundraising@htafcfoundation.com in the first instance.

This could be something as simple as a table in the corner of your office, or you could have a go at designing something a bit more extravagant!

During the week commencing 27 June, the Town Foundation will come to your address, collect your donations and acknowledge your efforts on social media!

It would be great if you could share news that you're taking part with your customers/participants/parents etc and encourage them to make a donation.

You could also share a post on social media using the hashtag #FoodBankWeek and tagging @htafcfoundation on Twitter or Facebook, @htafc_foundation on Instagram or @huddersfieldtownfoundation on LinkedIn.

All food items should be non-perishable, examples include cereal bars, tinned goods and pasta. CLICK HERE for a more detailed list provided by the international charity INN.