19 Jan

JOIN IN WITH #WEARBLUE DAY ON FRIDAY 27 JANUARY

Huddersfield Town Foundation is inviting you to have fun in blue for our annual 'Wear Blue Day' on Friday 27 January!

The Foundation is encouraging businesses, schools, Town fans, teams, and individuals to incorporate enjoyable activities whilst raising some important money for the club's official charity.

Whether it's wearing blue to work or school, hosting a blue-themed event, having a blue-inspired cake sale, adding a splash of blue to your classroom or going wild by turning up to school with blue face paint, there are many ways to back Town's Foundation next Friday; just make sure it is blue!

In previous years of our annual occasion, our teams have worn blue for training, schools have held blue-specific non-uniform days, and businesses have treated staff with a blue cake sale.

If you are taking part, we encourage supporters to share your activities and photos on social media using the hashtag #WearBlue. Alternatively, you are welcome to share your images through email to devon.cash@htafcfoundation.com.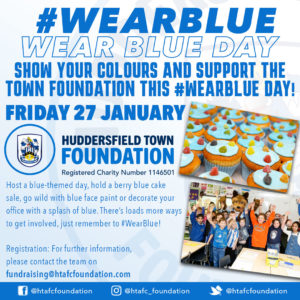 Funds raised can be donated online via our Enthuse Page (CLICK HERE).
You can also make a quick and easy donation by texting HTF to 70201 to donate £1 or by messaging HTF to 70331 to donate £3.
The funds raised will go a long way in supporting our vital Breakfast Club programme, which has helped to serve 2.2 million breakfasts across 41 schools in the Kirklees area to help tackle food poverty since its inception in 2012.
This project costs around £140,000 per year to run, meaning your donations go a long way in helping a child get the most important meal of the day to give them enough energy for a day of learning.
If you would like any further information on the ways that you can get involved, please contact the team at fundraising@htafcfoundation.com.
You can also click the links below for the fundraising packs!
Wear Blue Day Fundraising Pack: This pack gives you all the hints and tips you'll need to run a successful Wear Blue Day event – whether that's at work, at home or elsewhere!
Wear Blue Day Poster: This poster is editable online or can be printed at home. Use it to promote your Wear Blue Day event and to invite all your friends, family, colleagues and teammates to get involved.
Sponsorship Form: If you collect any cash donations encourage donors to fill out your sponsorship form so that you can claim gift aid too.
Huddersfield Town Foundation would like to thank you for your continued support, and we cannot wait to see everyone in blue on Friday 27 January!