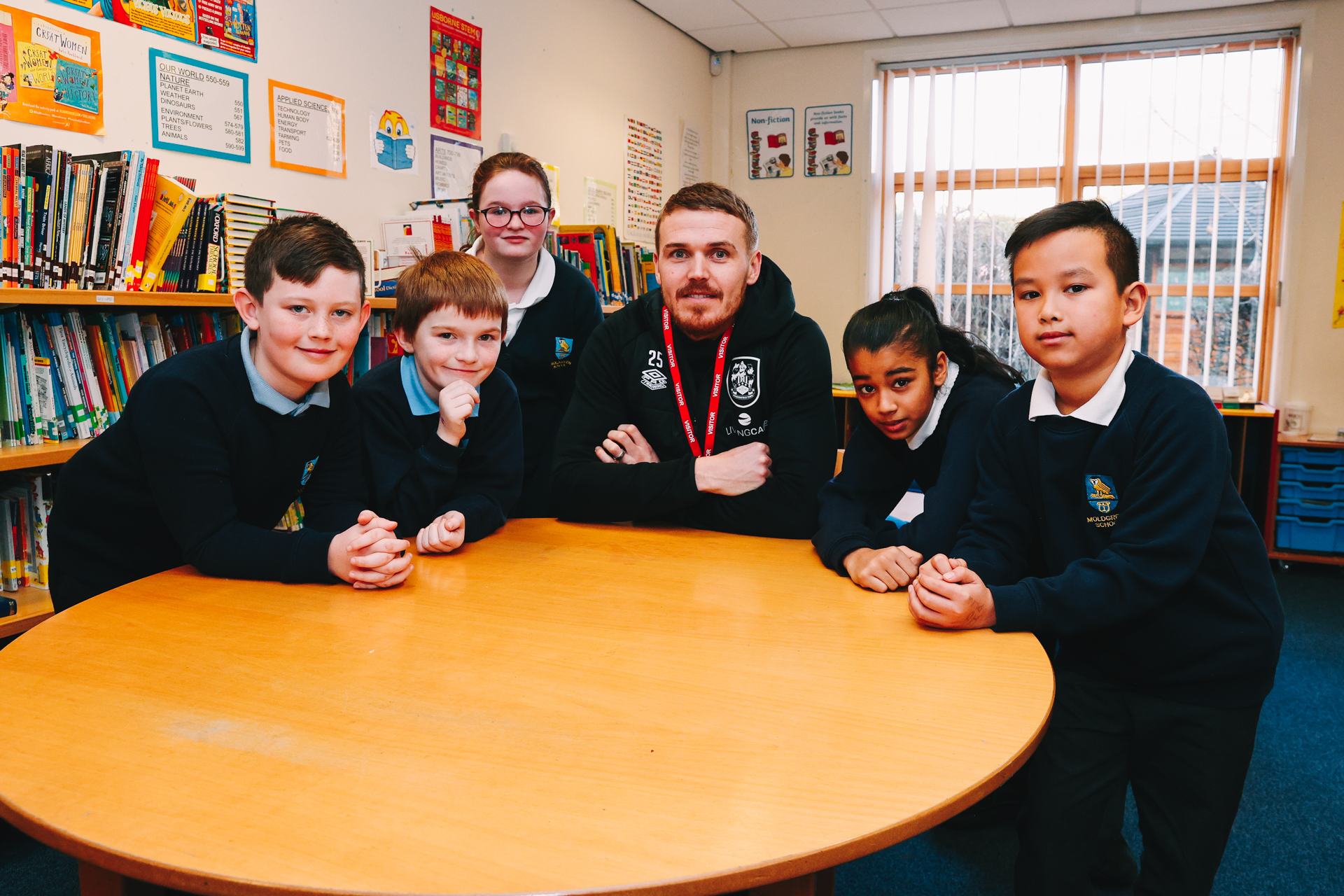 03 Feb

TOWN FORWARD DANNY WARD VISITS MOLDGREEN!

Key Stage 2 students at Moldgreen Community Primary School enjoyed an assembly with Town forward Danny Ward on Tuesday morning.

Ward gave an inspiring talk surrounding Moldgreen's core values of resilience, confidence, and teamwork, offering personal examples to back up his comments.

The children in attendance grasped what the 32-year-old had to say before they enjoyed asking Ward a range of questions at the end of the session.

Moldgreen benefits from the Foundation's Premier League Primary Stars programme that we deliver in the school.

Premier League Primary Stars uses the power of the Huddersfield Town brand to engage pupils and teachers across all subject areas. The programme is available to Primary Schools across Kirklees, Wakefield and Calderdale, inspiring boys and girls aged five to 11 in the classroom, the playground and on the sports field to help their learning in English, Maths, PE and PSHE.

Ward explained the importance of understanding these lessons early into the pupil's development.

"We have done an assembly instilling the values of never giving up, trying their best, and being positive with both their work and everything in their life to hopefully set them up for a good future," he said. "It's important to transfer these messages to these students.

"I have got two kids, so it is massive to instil those values and my daughter has just started school, so for us, we have been reading with her every night and making sure that she does it.

"We have tantrums, and we have arguments, but we get there in the end and if you put those values in place at an early age, it sets children up for life.

"Everyone may think it is just about playing football but we were that age once and we all had to do the school work and when I was at Leeds [United], if our work wasn't up to scratch we weren't allowed to train, so it was great to come in and pass on some of the experiences that I have had in my life and answer the student's questions."

Moldgreen headteacher Helen Pearson was delighted to welcome Ward into the school and discussed what she hopes her students will have taken from the assembly.

"It was fantastic to have Danny in," added Helen. "He is a great role model.

"Today, he has helped to promote our core values of resilience, confidence, and teamwork and who better to do that than Danny Ward, who has played many times for Town and scored goals for the club?

"The children really, really listened to him and hopefully it will resonate with them greatly.

"We have also put one of his press interviews on the slides so that the students can watch that in class and see that it is not just about football, it is about other things too, and it is about showing them how good behaviour is required on and off the pitch and being a good role model for society."

If you would like more information on our Premier League Primary Stars delivery, please email help@htafcfoundation.com to enquire.