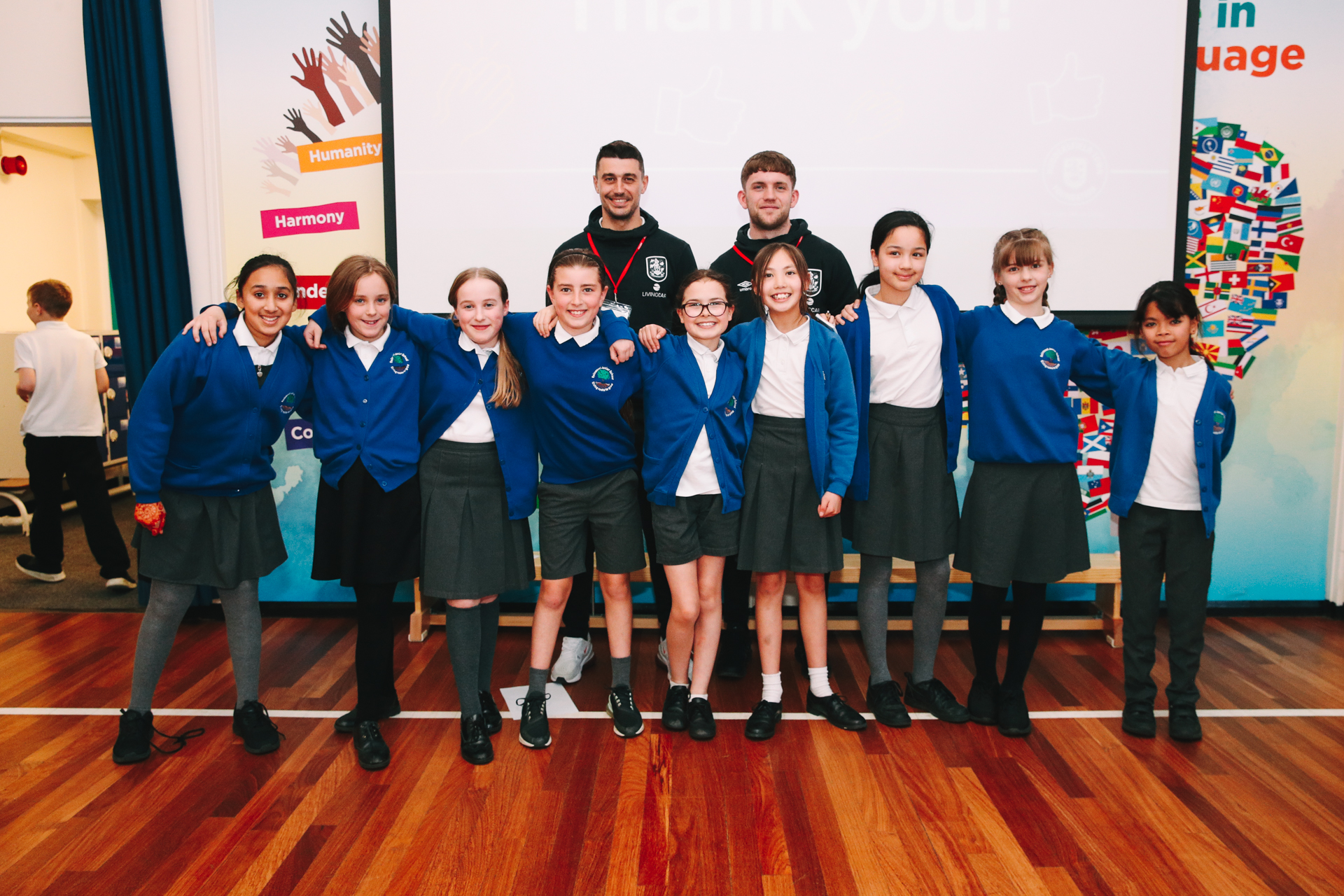 28 Apr

HUDDERSFIELD TOWN PLAYERS MATT LOWTON AND BEN JACKSON VISIT REINWOOD!

Huddersfield Town players Matt Lowton and Ben Jackson visited Reinwood Infant School and Premier League Primary Stars partner Reinwood Junior School on Tuesday afternoon with the Huddersfield Town Foundation.

As a result of a competition that Town ran at the Watford fixture at the John Smith's Stadium in December, supporter Mark Jackson won a prize to nominate a school or club to receive a player visit, choosing Reinwood!

This week, Lowton and Jackson both joined Reinwood Infants and Juniors for an interactive assembly on healthy behaviours such as having a balanced diet, having a positive attitude, and being active.

Lowton and Jackson then answered questions from the students about what they have to eat in preparation for matches, as well as topics surrounding being a footballer.

Defender Lowton explained how he hopes their words will help to inspire the children.

He said: "It is always good to come and help inspire the kids and give them some insight into what it is like to be a professional footballer, so it's been good and I have enjoyed it.

"The topics that were covered were important because your diet is an important thing in every walk of life and as long as it is balanced, and you are getting the right things into your body, then hopefully you will grow up to be fit and healthy.

"We had some good questions from the kids, and it showed that they listened to the assembly and then they tried to get ideas from us in what to eat and how to prepare for games and things like that.

"It was good to get involved with the Foundation and I have always enjoyed coming down to things like this over my career and seeing smiles and the kids' faces from giving something back a little bit like when I was younger and I was buzzing when we had players come in.

"It is good for them to listen to the likes of me and a local lad in Jacko and even though I have travelled a bit, it shows that anyone can do it if they put their mind to it and it is about listening and taking advice from people that have been there and put it into practice."

Reinwood Juniors are part of the Foundation's Premier League Primary Stars programme, which uses the power of the Premier League brand and football to engage and support pupils in schools.

Primary Stars Manager Laura Neimantas was delighted with how the afternoon went.

"I really enjoyed delivering our healthy lifestyle assembly in Reinwood on Tuesday; the students were up for getting involved and really understood the importance of having a healthy lifestyle," she said.

"We deliver these assemblies as part of the PLPS programme to educate the students on the importance of having a balanced and healthy life.

"A big thank you to both players who came along and echoed the message that we were trying to portray. I hope to see some professional footballers in the future come out of Reinwood."

For more information about the Premier League Primary Stars programme, please email help@htafcfoundation.com for your enquiries.