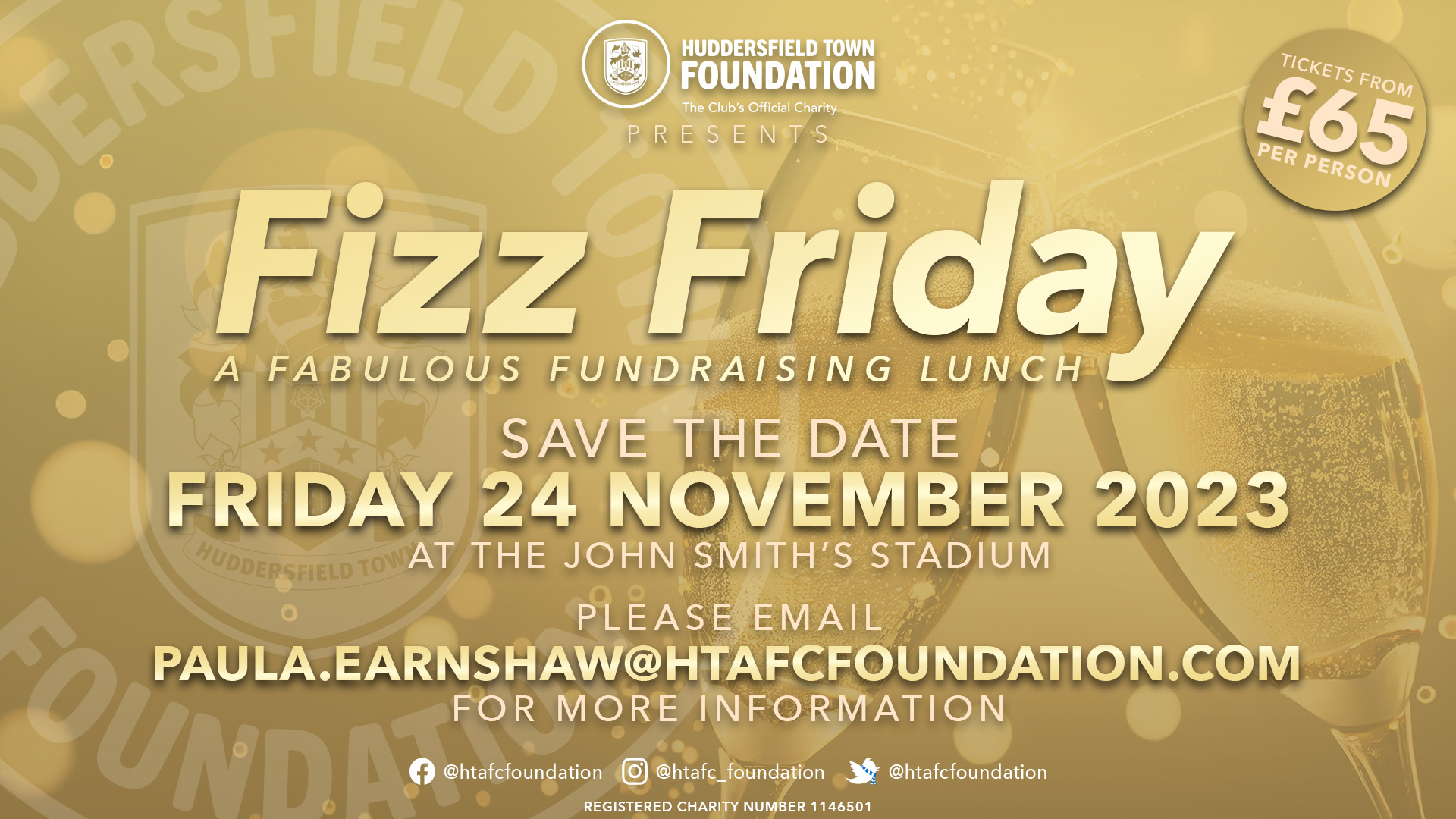 08 Jun

SAVE THE DATE: FIZZ FRIDAY RETURNS ON FRIDAY 24 NOVEMBER

Huddersfield Town Foundation is thrilled to announce that the fourth instalment of our Fizz Friday event will take place on Friday 24 November 2023.

You are invited to enjoy an afternoon of fun, food, games, and much more whilst raising much-need funds for the Foundation's important projects in the local community.

The event will take place at the John Smith's Stadium and will run during the daytime, with arrival taking place from late morning.

From there, guests will be invited to browse pop-up shops hosted by a range of local businesses before taking their seats in the Revell Ward Suite.

Following a warm welcome from Chief Executive Officer Siobhan Atkinson, guests will enjoy a sit-down lunch before partaking in fundraising games, raffles, and a silent auction.

Those attending will also be treated to the delightful sounds of the Motownella's, who will add their own sprinkle of cheeky charm, glitz, glamour, and class.

The sensational trio deliver a fabulous show full of sweet harmonies and captivating choreography, taking you back to the time of that era to maintain all things Motown.

Guests will also get the chance to hear directly from people that have benefited from the Foundation's work, as well as the staff who have helped them throughout, showcasing the execution of the work that our donations have.

Tickets are priced at £65 per person, as well as an option for a table of 10 for £650, and can be purchased by contacting paula.earnshaw@htafcfoundation.com via email.

We are also welcoming local companies to sponsor the event and help continue the delivery of the Foundation's work in the community that they operate in.

So, if you are a business looking for a celebration with your colleagues or a group of friends looking for a fantastic afternoon of fun, we hope to see you for another fabulous Fizz Friday!