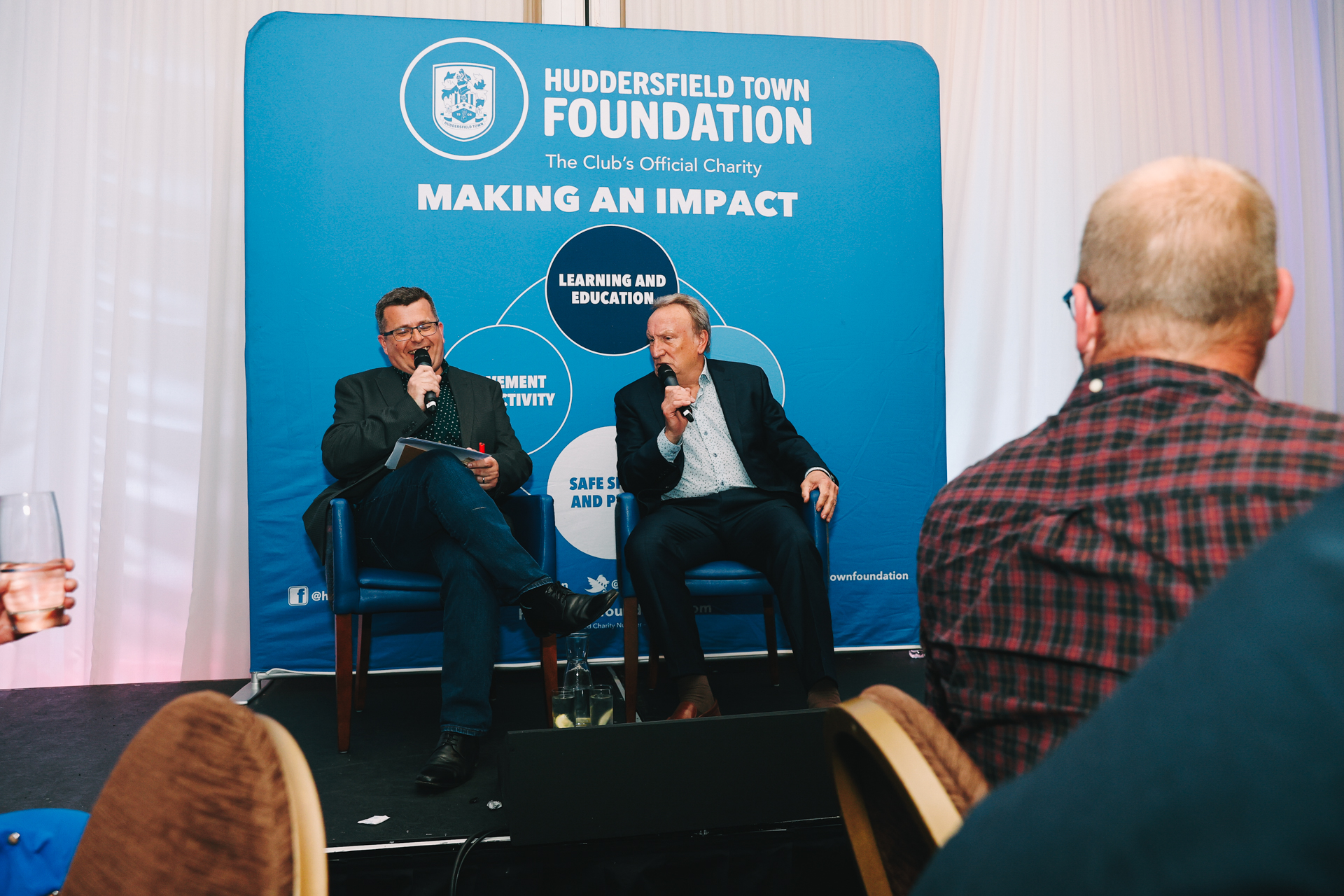 27 Jun

AN EVENING WITH NEIL WARNOCK REVIEW

Huddersfield Town Foundation is pleased to announce that An Evening with Neil Warnock has raised £15k for the charity!

Taking place on Thursday 11 May, everyone came together in a fundraiser for the Foundation to celebrate Town's Championship survival with a special evening with the man himself at the home of Huddersfield Town: the John Smith's Stadium

Neil – alongside our fantastic compère on the evening John Foster – took a captivated audience through the journey of his playing and managerial career, with a particular focus on his past and recent success as manager of Huddersfield Town.

Through ticket sales, 'Neil Warnock Bingo', and a silent auction with SeeItNow Group, a total of £15,000 has been raised for the Foundation, which will go a long way in our battle against poverty in the Kirklees area.

We also had an auction for the limited edition 2022/23 Huddersfield Town Charity Shirt, signed by the entire Town squad. The lucky recipient of the shirt was Craig Miller, who we would like to thank for his support of the Foundation.

We would like to thank Majestic Site Management for their support by supporting the evening, as well as Rock My Reception, who entertained guests on their entry and exit with an exuberating setlist.

Chief Executive Officer Siobhan Atkinson had this to say on a successful evening:

"I'm very grateful to Neil for his donation of time to support the Foundation in our endeavours to raise money that enables us to sustain our work. We're still delivering our Breakfast Clubs and there has been a real increase in demand for these due to the cost-of-living crisis.

"I'm delighted a manager of Neil's calibre instantly recognises the vital work that the Foundation carries out and that he wanted to offer his time and support to further all this. It shows that football really is a family, and we work to look after and support our own. The funds raised stay right here in Kirklees and it's wonderful that the Town fan base cares so much about its community.

We would like to issue a massive thank you to everyone for their generosity, furthering those thanks to Neil for making it a truly special evening with his iconic storytelling.

If you are interested in learning more about the work of the Huddersfield Town Foundation and hearing first-hand about future events, please sign up for our monthly newsletter here.