18 Jul

HUDDERSFIELD TOWN B TEAM PLAYERS CONOR FALLS AND CHARLES ONDO VISIT TURN OUT KICK-OFF SESSION!

Huddersfield Town B Team players Charles Ondo and Connor Falls visited the TURN OUT's KICK-OFF football session at Leeds Road Sports Complex on Thursday 13 July.

TURN OUT is a programme that aims to support people with experience of being in the care system by guiding them towards employment, education, and training.

The partnership between the Huddersfield Town Foundation and Kirklees Council has helped to create a safe space for people with care-experienced backgrounds so that they can check in emotionally and utilise the support provided to gain skills ready for the future.

TURN OUT'S KICK-OFF session allowed the participants to get out of their usual setting and take to the pitch to give them a new way of expressing themselves through the vehicle of football. We were joined by some unaccompanied refugees in the care system due to their age, which gave them a new avenue of communication.

After some drills and a football game, the group came together for a question-and-answer session with Ondo and Falls who both have experience in moving to a new country with little support around them.

The group were inspired by the Young Terriers, and they both stayed for a light kickaround with the participants to end a great session.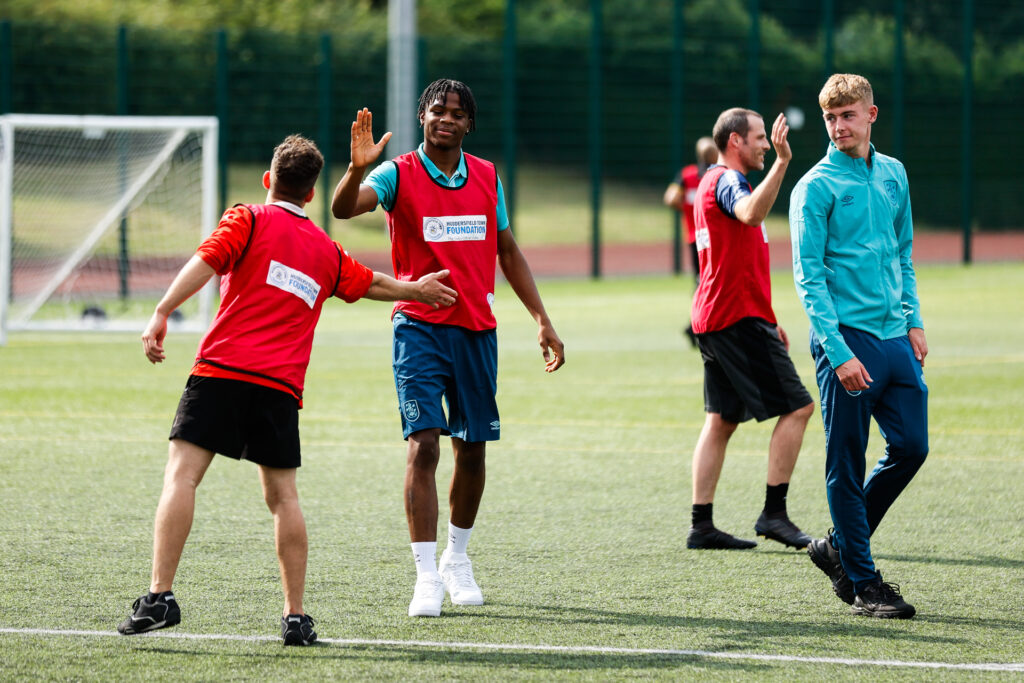 Ondo explained why it was important to engage with the care leavers due to his background.
He said: "I think it is very important because I remember when I first came into the country, I didn't know anyone and it was a new country and a new language, and I felt that football was the way of getting to know people and it was nice to see from everyone's faces that they were enjoying it."
Falls added: "I really enjoyed coming down to meet the refugees and care leavers and tell them our stories about moving to a new country and express our opinions about what that was like."
The Foundation's Children in Care programme manager Sam Valentine was delighted with the way that the session was executed.
He explained: "The session came about from a conversation with the Head of Service at Kirklees Council's Leaving Care team and another Personal Advisor (PA) about some football sessions that they used to run with their care leavers.
"From there, we established that from the team, there were young people that had come across from other countries that when they arrived and being unaccompanied and under the age of 18, they were put into the care system.
"What we found was in coming together along with their PAs and playing football, they could all be as one and we really honed in about creating a sense of belonging which is what the 'TURN OUT' programme strives to do, but this time it was in a different way by using football.
"Creating a space where there isn't work and is more physically active, it helps to make relationships stronger and things will be positive, and you get to see people in a different light."
Kirklees Council personal advisor Matt Eastwood expressed the impact that the visit will hopefully have on the participants.
Eastwood said: "It was just inspiring and from listening to their background, it's something that the participants can relate to hopefully and see what they could get out of.
"It's knowing that people can succeed with a small support network around them, and it is inspiring for these young people that are coming through because although they may have experienced some horrific things, it is showing them that positive side of things."
For more information on TURN OUT and the Children in Care programme, please email help@htafcfoundation.com with your enquiry.