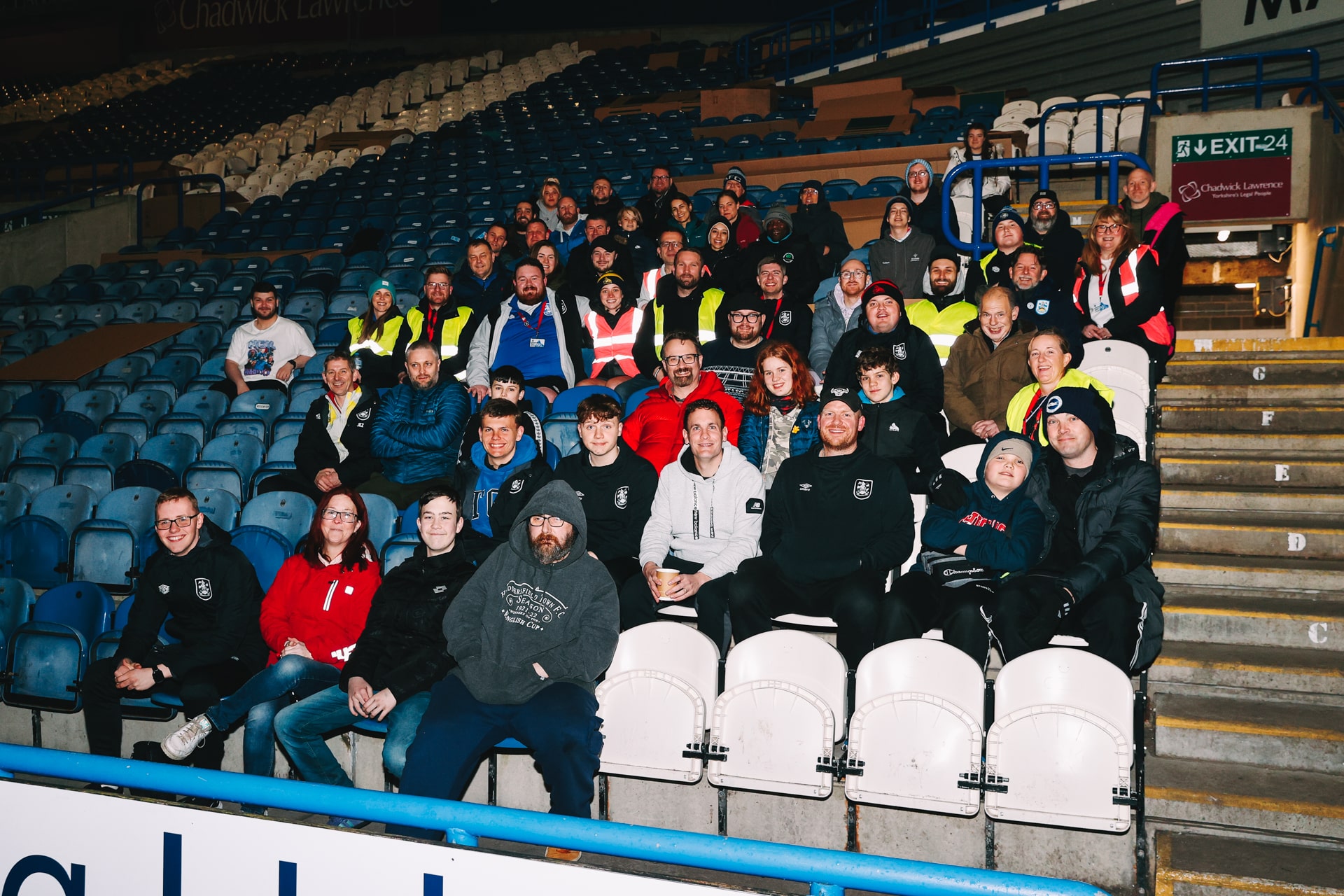 10 Oct

WORLD HOMELESS DAY: THE IMPACT OF BIG SLEEP OUT 6

On World Homeless Day, the Huddersfield Town Foundation is delighted to announce the five charities that have benefited from the donations received from our Big Sleep Out fundraiser!

The sixth instalment of the annual event saw 69 participants take to the Chadwick Lawrence Stand at the John Smith's Stadium on the evening of Friday 24 March, with £11,400 being raised.

Attendees, who were a mixture of first-time participants or regular challengers, experienced an eye-opening night in tricky conditions with heavy rainfall and blistering winds.

Whilst participants were able to go back to their homes in the morning, many face destitution each day and we are extremely delighted to be able to help five other fantastic charities and community groups that help tackle poverty, supporting homelessness or persons at risk of homelessness.

The Basement Project, Cleckheaton Food Bank, DASH, Loving Hands, and Salvation have all received grants from the money raised by participants of the Big Sleep Out, along with the Foundation's Breakfast Clubs programme, which helps to give children in Kirklees the best possible start to a day of learning, serving over 2.2 million breakfasts since its inception.

This year's fundraising means that the total number across all six of our Big Sleep Out events has surpassed £170,000 since its inauguration in 2018.

As well as receiving a grant this year, the Basement Project are a past beneficiary of the money raised from the Big Sleep Out. Larry Eve, Service Manager, explained how the funds have helped the charity in the past.

He explained: "We have been successful with the donations that we have received from the past as well and the biggest gift is the positive impact that it has had on the impact it's had on those that we are working with that are less fortunate.

"We're a non-profit organisation and it's these pockets of money that allow us to be really progressive and innovative in terms of the way can work and it's that what makes a difference and makes the impact on someone's life that's currently experiencing homelessness or chaos or substance issues.

"It's the little things like we have given out sleeping bags and clothing like socks, hats and gloves and most of that came through the Huddersfield Town Foundation."

Louisa Weir, the Managing Trustee and Chairperson of Loving Hands, who provide an essential food parcel delivery service to those in poverty or at risk of being in poverty in North Kirklees, explained the impact that the funding has had on their community work.

"We are over the moon about it," they said. "It means a lot because it shows that the Foundation is helping local people and there are a lot of Huddersfield Town fans in the families that we support.

"Any support that we receive that can help local people is amazing.

"The funds will allow us to buy fresh food items to provide families with more healthy foods to families and kids that normally wouldn't get them.

"Thank you to those that did sleep out last year as it is an amazing thing to do and a great way to raise money."

The Foundation can also announce that the event will be returning for a seventh instalment in March 2024!

To register your early interest, please CLICK HERE to fill out the form for Big Sleep Out 7!