17 Nov

TOTAL FOODSERVICE DONATE VAN FOR FOUNDATION'S BREAKFAST CLUBS DELIVERY

Huddersfield Town Foundation has recently taken receipt of a new van donated by Total Foodservice, which will help with the delivery of food for our Breakfast Clubs.

Having helped 40 schools across Kirklees over the past 11 years, the Foundation has provided young children with the necessary food and nutrients to fuel them for a day of learning, where previously they would have been going into a school day hungry.

Total Foodservice is the official food supplier for Breakfast Clubs and assists us in proudly continuing to impact the health and wellbeing of young children across Kirklees, having helped to serve over 2.5 million breakfasts since the programme's inception in 2012.

Our Breakfast Club programme costs over £140,000 per year to operate, with all of that money having to be raised by a range of fundraising activities, meaning the generosity of Total Foodservice in their donation is greatly appreciated.

Along with some heartwarming photos of the children that benefit from our Breakfast Clubs delivery are the logos of some of the organisations that have helped to put the wheels in motion and support our work in local schools.

The exterior of the van has been designed and installed by the tremendous work of CV Graphics, who are specialists in the provision of signs, vehicle graphics, retail and exhibition displays, and multi-format print.

Utilita Giving, the official charity partner of energy company Utilita, have kindly sponsored the front of the van. They support individuals, families and households who are experiencing fuel and/or food poverty across England, Scotland and Wales, and who meet the charity's purpose and eligibility criteria.

Our Breakfast Clubs delivery could also not be executed without the support of Caterers Choice, whose logo also features on the vehicle, as the Foundation receives a monthly donation from them which helps significantly.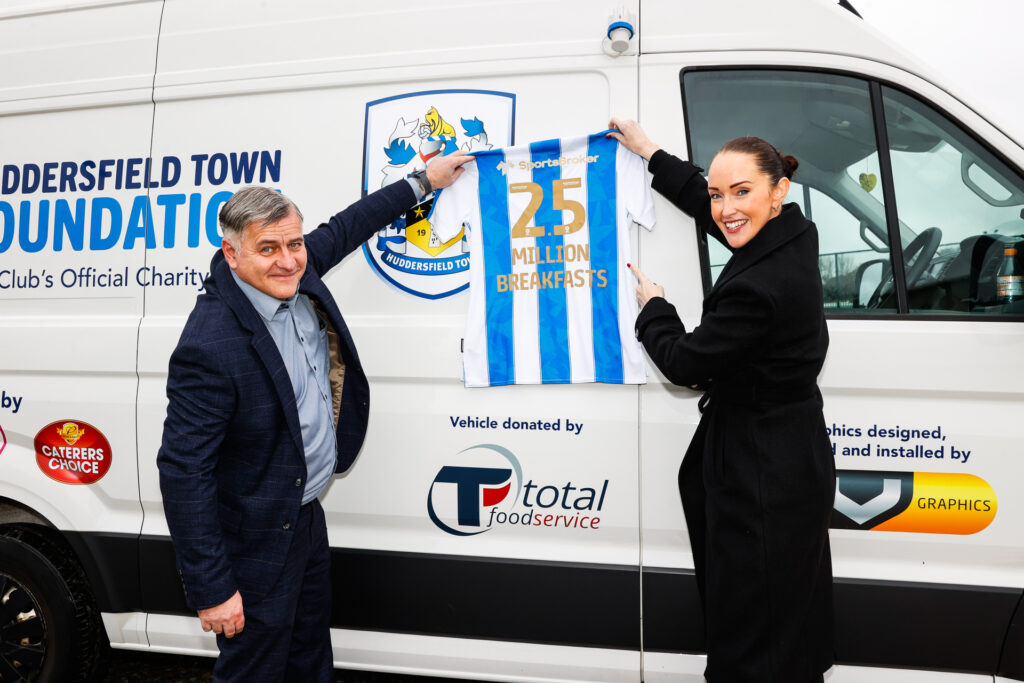 There is space for one more company to add their logo to our van, which will be driving all across Kirklees. This opportunity will see exposure for a local business mixed with an important connection as you publicly show your support for the official Charity of Huddersfield Town FC.
The Foundation's Chief Executive Officer Siobhan Atkinson commented:
"I'm overwhelmed; our van was getting old and the extremely generous donation from Total Foodservice has ensured that we can use funds raised to keep providing breakfasts.
"The need for our services continues to grow while we face considerable challenges in continuing to raise funds from all our events.
"I'm also grateful to Utilitia Giving, Caterers Choice, and CV graphics for their donations and support. To have companies such as these backing us really inspires us to keep our work and mission going."
Sue Howarth, Managing Director at Total Foodservice, said on the donation:
"We are thrilled to continue our partnership with the Huddersfield Town Foundation and to support their mission of providing breakfast foods to schools in Kirklees.
"The donation of the multi-temp VW Crafter is a testament to Total Foodservice's commitment to making a tangible difference in our local community.
"We are proud to contribute to such a worthy cause and hope that this new van will help the Huddersfield Town Foundation to expand its reach and impact even further."
Keira Meadus, Charity Partnership Officer at Utilita Giving, added:
"Utilita Giving is always keen to support like-minded organisations and there is a real synergy between us and the Huddersfield Town Foundation – supporting the vulnerable is at the heart of everything we do.
"There is no denying just how crucial the Breakfast Club project is to thousands of youngsters and their families throughout Kirklees.
"It's an honour to play a small part in this commendable initiative. I hope the funding goes a long way, and I look forward to working with the Foundation more frequently going forward."
Dave Askew, CV Graphics' Managing Director, expressed:
"We have had a longstanding working relationship with HTAFC and Huddersfield Town Foundation and are happy to support them with the excellent work they do in any way possible, so when they approached us with plans for a new delivery vehicle for the Breakfast Club scheme, we jumped at the chance to offer our services designing, producing and installing a bright new livery to promote the cause.
"We look forward to seeing the van out and about in Huddersfield and the surrounding areas and wish everyone at the charity continued success for the future."
Caterers Choice's Responsible Business Manager Elizabeth Williams continued:
"Caterers Choice Ltd & Fruitypot Ltd have been supporting Huddersfield Town Foundation since 2013.
"With the addition of these new vans, the Breakfast Club scheme will be able to provide breakfasts to more school children in the Kirklees area, a cause we are very proud to support."
If you would like to get in touch about how you can support the Foundation's delivery of our Breakfast Clubs, please email help@htafcfoundation.com with your enquiry.
You can also help with fundraising by emailing fundraising@htafcfoundation.com!