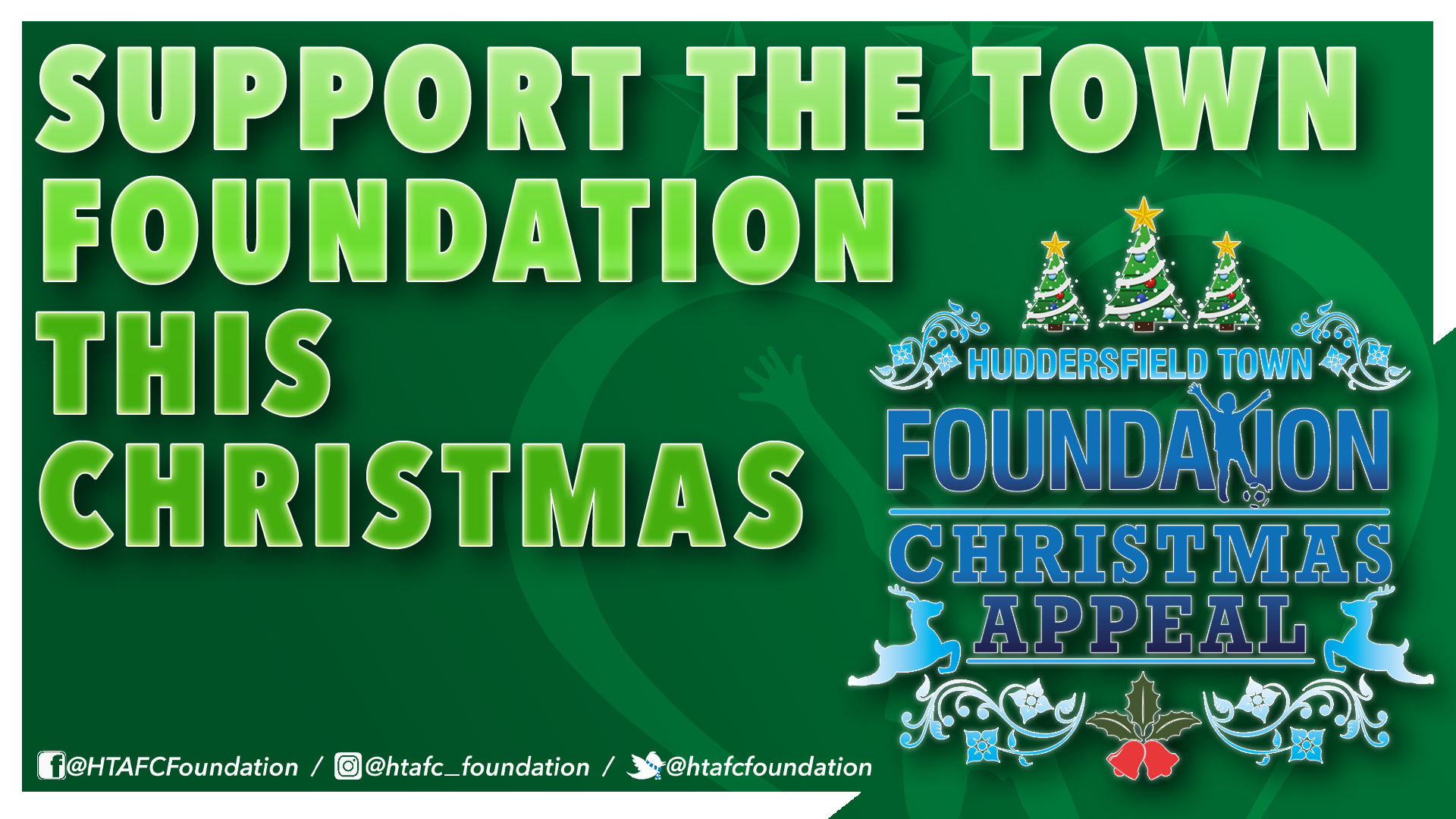 28 Oct

TOWN FOUNDATION LAUNCHES CHRISTMAS 2020 FUNDRAISING APPEAL

The Huddersfield Town Foundation is asking for your support in making this a Christmas to remember for many people in our local community.

This Christmas appeal is the first in the Foundation's history and aims to raise vital funds in light of cancelled fundraising events this year.

Throughout the months of November and December we will be running a range of virtual initiatives, making the campaign fully inclusive and giving supporters a choice in how they wish to help.

One of the initiatives in the coming weeks will be directly to businesses, encouraging them to 'Buy a Bauble' to be displayed on their office Christmas tree.

Another event that you can take part in will be the Santa Stroll, where families, friends, colleagues etc can walk a mile in festive wear and raise money. Adults will have the opportunity to purchase a blue Santa suit, so watch this space!

The Town Foundation has also partnered with the Huddersfield Town retail team to launch several products that will carry a donation to us upon purchase. More details will follow on this.

In addition, we will be hosting an Online Auction with five items exclusively available to HTAFC supporters which would make the ideal Christmas present for any Town fan

Supporters can also sign up to the Foundation's Direct Debit scheme, donating £2 per month. Just a year of donations will feed one child breakfast for 15 weeks of the school term at a #HTFBreakfastClub.

Should you wish to donate without taking part in an activity, you can do so via the dedicated Just Giving page – https://www.justgiving.com/campaign/FoundationChristmasAppeal2020.

Other means of donating include Amazon Smile and Give As You Live – you can find out more about these schemes by clicking their name.

All the initiatives will be launched over the coming weeks so follow the Foundation's social media platforms, @htafcfoundation on Twitter & Facebook and @htafc_foundation on Instagram, for further details.

To kickstart its 2020 Christmas Appeal, the Huddersfield Town Foundation has received a £4,000 donation from the FV & E Brook Charitable Trust!

The Brook Charitable Trust's aim is to contribute to worthwhile causes and charities local to Huddersfield, with a view to changing lives for the better.

Following the prominence of the free school meals debate in local and national media, the Trustees made the decision to help an established project helping disadvantaged children in Huddersfield.

On the awarding of the money Richard Mills, a trustee at the Brook Charitable Trust, commented:

"Having donated several times over the past few years to the Huddersfield Town Foundation and its excellent work with the 'Early Kick-Off' Breakfast Clubs, established by the former Town Chairman Dean Hoyle and his wife Janet, the Trustees didn't hesitate to donate once again.

"The Trustees wish the Town Foundation great success with its Christmas Appeal and hopes that the local community and businesses gets behind it."

On the Christmas Appeal, Town Foundation Fundraising Executive Lisa Bottomley commented:

"I am delighted that we are able to launch our brand-new Christmas Appeal. Like many other charities it has been difficult to host fundraising events in the traditional way this year, hence we are turning our focus to digital platforms.

"With this appeal there are many avenues in which people can show their support, from physical activity to joining the direct debit scheme. Businesses can also get involved selecting the Foundation as their Christmas charity and buying a bauble.

"I would like to say a big thank you to FV & E Brook Charitable Trust for their generous donation. It is greatly appreciated and will help us to ensure that the children attending breakfast club start their school day the right way."

If you would like more information or have any questions, please contact Lisa Bottomley on lisa.bottomley@htafcfoundation.com or 07741 671 596 in the first instance.