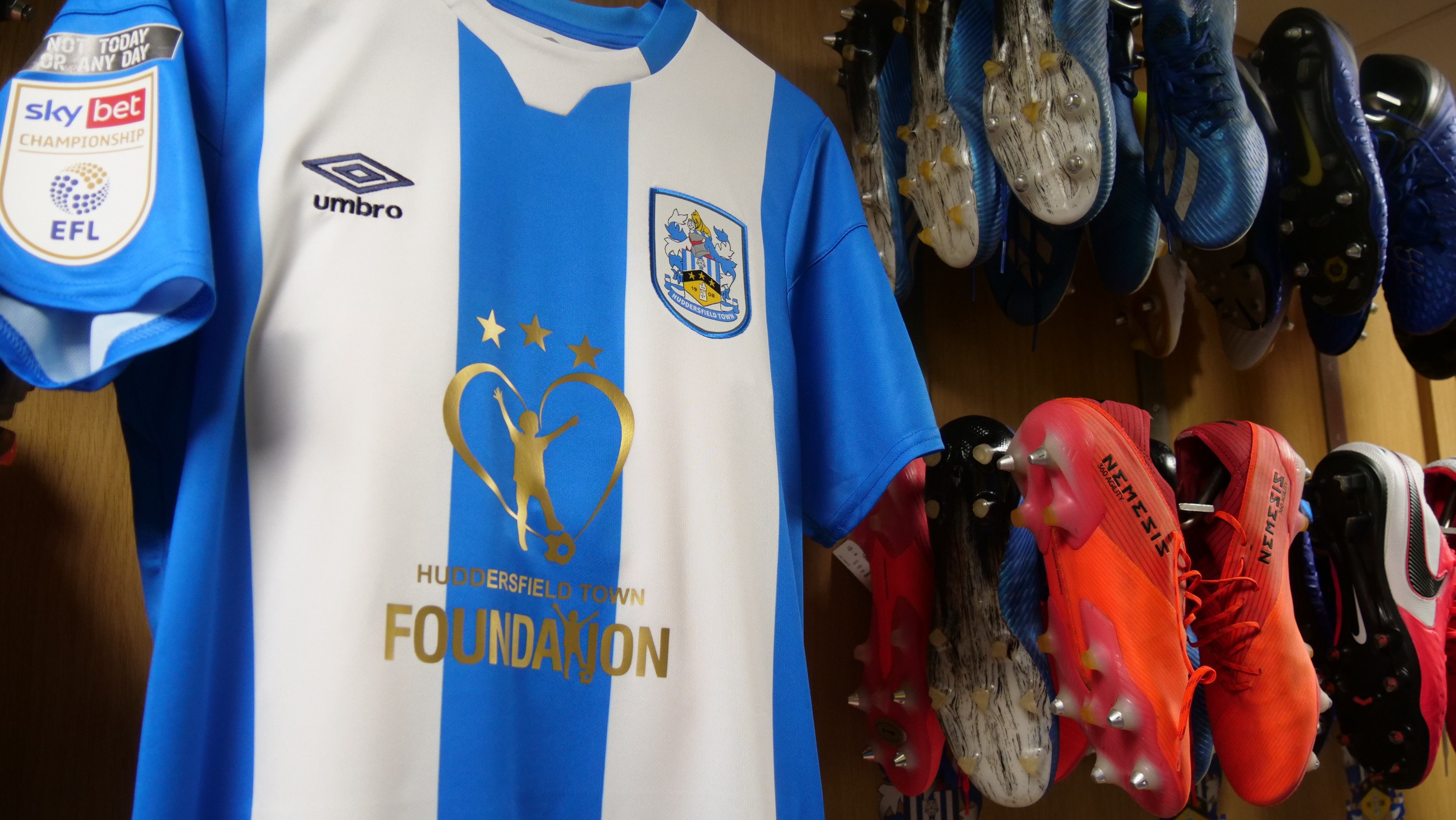 07 Dec

FOUNDATION LOGO TO FEATURE ON HUDDERSFIELD TOWN SHIRTS AGAINST SHEFFIELD WEDNESDAY

Huddersfield Town will proudly wear the logo of its registered charity, the Town Foundation, on its shirts for Tuesday night's Sky Bet Championship match against Sheffield Wednesday!

The Town Foundation will sponsor the shirt for the game against the Owls to raise vital funds for their 2020 Christmas Appeal, which has raised more than £7,000 thus far!

2020 has been a tough year for the Foundation in terms of fundraising, with many key events being cancelled due to the COVID-19 pandemic.

Despite this, the team have continued to support the vulnerable of all ages across Kirklees, adapting its delivery to become more digital and offering their services wherever needed.

After the match, the shirt of every outfield player in the match day squad will be signed by their respective player and auctioned online.

In addition to the shirt the successful bidder will also receive a personalised video message from that player, making this a fantastic and unique Christmas present!

More details on the shirt auction will be published on htafc.com and htafcfoundation.com in due course.

On the news, Siobhan Atkinson, Chief Executive of the Town Foundation, commented:

"We'd like to thank Huddersfield Town Chairman Phil Hodgkinson for providing us with this opportunity as soon as the details of the innovative shirt sponsorship approach were released. This is the perfect match for us to gain more exposure, which will do wonders for our Christmas Appeal and help so many people in our area during this vital time.

"Our work uses the power of the Huddersfield Town brand to inspire and motivate participants, making a huge difference to thousands of lives every year.

"The generosity of Town supporters this year has been overwhelming and we hope that this can continue with the auction!"

Throughout the season the Town Foundation is also featuring on Town's away shirts in rotation with two other fantastic local charities – The Kirkwood and Yorkshire Air Ambulance. Click here to find out more.

To keep up to date with the latest Town Foundation news you can follow us on social media – @htafcfoundation on Twitter and Facebook, @htafc_foundation on Instagram and Huddersfield Town Foundation on LinkedIn.

If you do not use social media, the 'News & Events' tab on htafcfoundation.com is regularly updated.

Should you wish to make a donation to the Christmas Appeal without bidding on a match worn shirt, please visit the dedicated Just Giving page.

The Town Foundation's Christmas Appeal began with a generous donation of £4,000 from the FV & E Brook Charitable Trust, which aims to change lives for the better by contributing to causes local to Huddersfield. For more information on this, please click here.

If you would like more information about the appeal, please contact Fundraising Executive Lisa Bottomley on lisa.bottomley@htafcfoundation.com.