07 Mar

BOB FARRELL SHARES HIS VIRTUAL BIG SLEEP OUT EXPERIENCE

In September 2020, Huddersfield Town fan Bob Farrell set out on a challenge in order to raise funds for the Town Foundation.

The Southern Terriers member completed a three-night 'Big Sleep Out' in his back garden in Barnet, North London, raising £2,750 in the process.

Ahead of the Town Foundation's Virtual Big Sleep Out event on Friday 12 March, we spoke to Bob to learn more about his set up of a night and gain some practical tips.

"I hung a tarpaulin sheet from my shed to make a lean-to tent. This was purposely done to try and make the experience as close to the real thing as possible," he said.

"The first night was definitely the most challenging. Luckily I took a selection of clothes out with me as I noticed that around 3am the temperature dropped dramatically. That was when I had to add an extra layer!"

The Town Foundation's Big Sleep Out is a fundraising event, with all money raised subsequently being split between local charities tackling issues relating to homelessness and the Foundation's Breakfast Club scheme.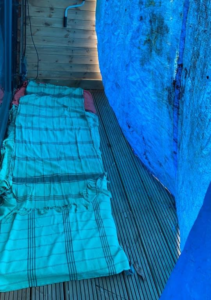 Bob explained how he used social media to raise money and awareness of his event:
"I used our Southern Terriers platforms, as well as my own, to promote my Sleep Out. Along with daily updates on my fundraising efforts, I thanked each person for their donation."
Sleeping on your own outside can be a daunting experience, but Bob revealed what kept him going throughout the night:
"Although it was very challenging sleeping out for three consecutive nights, I really enjoyed it and was proud to raise £2,750 to support the Foundation and other fantastic charities."
"The fact that I would eventually be able to return to a comfortable bed kept me going. Unfortunately, this isn't the case for the people that have to sleep rough every night of the year."
There is still time to register for Friday's event by clicking HERE. People that register will receive a free pack in the post containing activities to take part in on the night.
Supporters can also watch a live show on the club's YouTube channel, starting at 7pm, with a range of special guests. More information on the show can be found HERE.
If you would like any further information, please contact Fundraising Executive Lisa Bottomley on lisa.bottomley@htafcfoundation.com or 07741 671596.