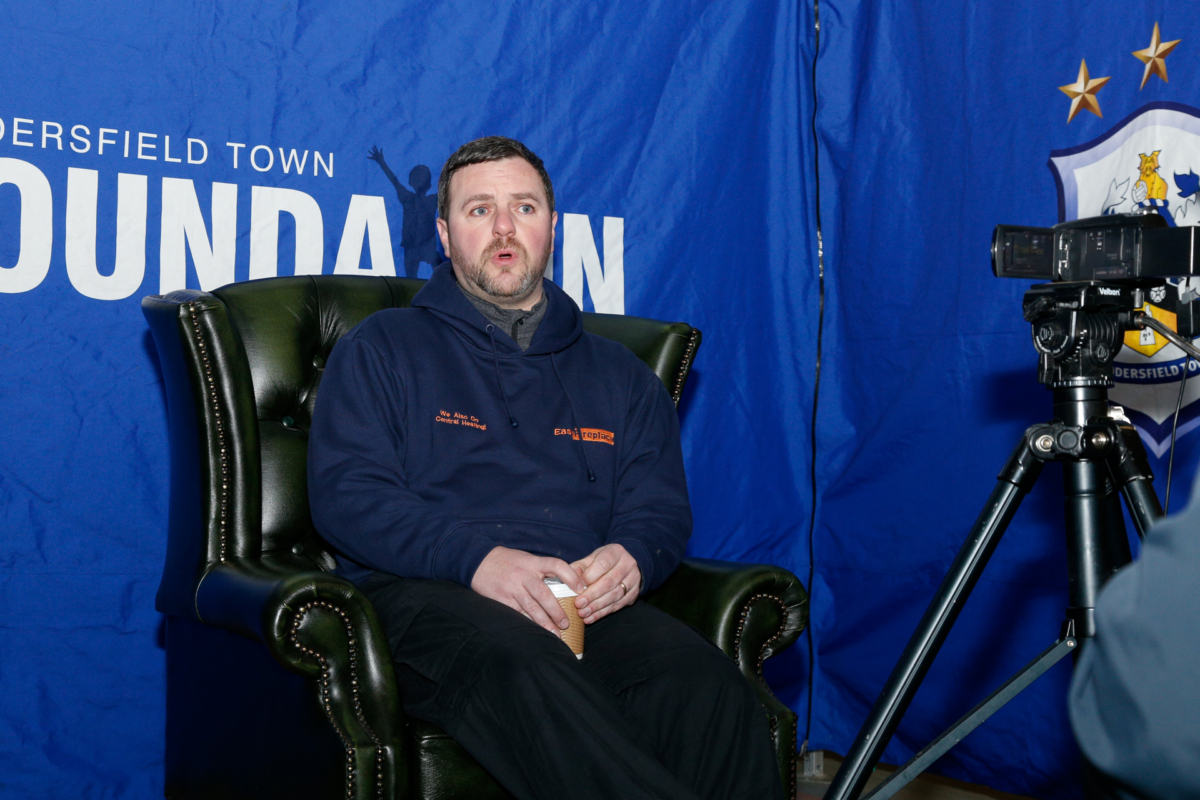 10 Mar

BIG SLEEP OUT: A LOOK BACK THROUGH THE YEARS

Over the past three years, the Huddersfield Town Foundation's Big Sleep Out (BSO) event has raised almost £130,000 for local charities tackling homelessness-related issues.

Across the three events 480 people have slept under the stars at the John Smith's Stadium, experiencing something new and raising awareness for a good cause.

Ahead of BSO 4, which will take place virtually on Friday 12 March 2021, we've taken a look back at how the event has developed over the years.

The first BSO took place across the evening of Friday 9 March and morning of Saturday 10 March 2018, ahead of Town's Premier League match against Swansea City.

It came to fruition after the Foundation's Board of Trustees, including then Chairman Dean Hoyle, had identified homelessness as a prominent issue that needed addressing in Kirklees.

150 fundraisers took part on the night and raised £55,258, which was split between Huddersfield Mission, the Welcome Centre, Batley Care and Drop In, Batley Food Bank, Winter Warmers, Care Dewsbury, Dewsbury Minster, Calderdale Smartmove, Platform 1 and One Big Family.

2019 saw an increase in attendees with 200 people taking part, again raising more than £50,000.

After the tender process was completed the money was once again distributed to local organisations, including new names Basement Recovery Project and Huddersfield Street Kitchen.

The latest BSO took place on Friday 6 March 2020, shortly before the COVID-19 pandemic hit the world.

This was another successful instalment with 130 people descending on the John Smith's Stadium and a number of local partners providing their expertise.

2020 raised more than £20,000 and saw the addition of a new feature, the diary room, allowing participants to share their thoughts on camera throughout the evening!

You can view a photo album for each of the three events on our website.

As mentioned earlier, the 2021 BSO will take place virtually and start with a show broadcast live from Canalside on YouTube, Twitter and Facebook.

Supporters can make a donation in the build up to the event and throughout via the following means, should they wish to do so.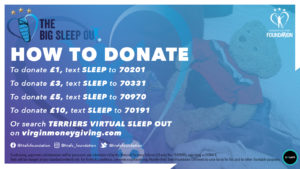 They are then encouraged to sleep out in their back gardens or any outdoor space, replicating the usual experience as closely as possible.
For full details on this year's event, please CLICK HERE.
If you would like any further information on the Big Sleep Out, please contact Fundraising Executive Lisa Bottomley on lisa.bottomley@htafcfoundation.com or 07741 671596.