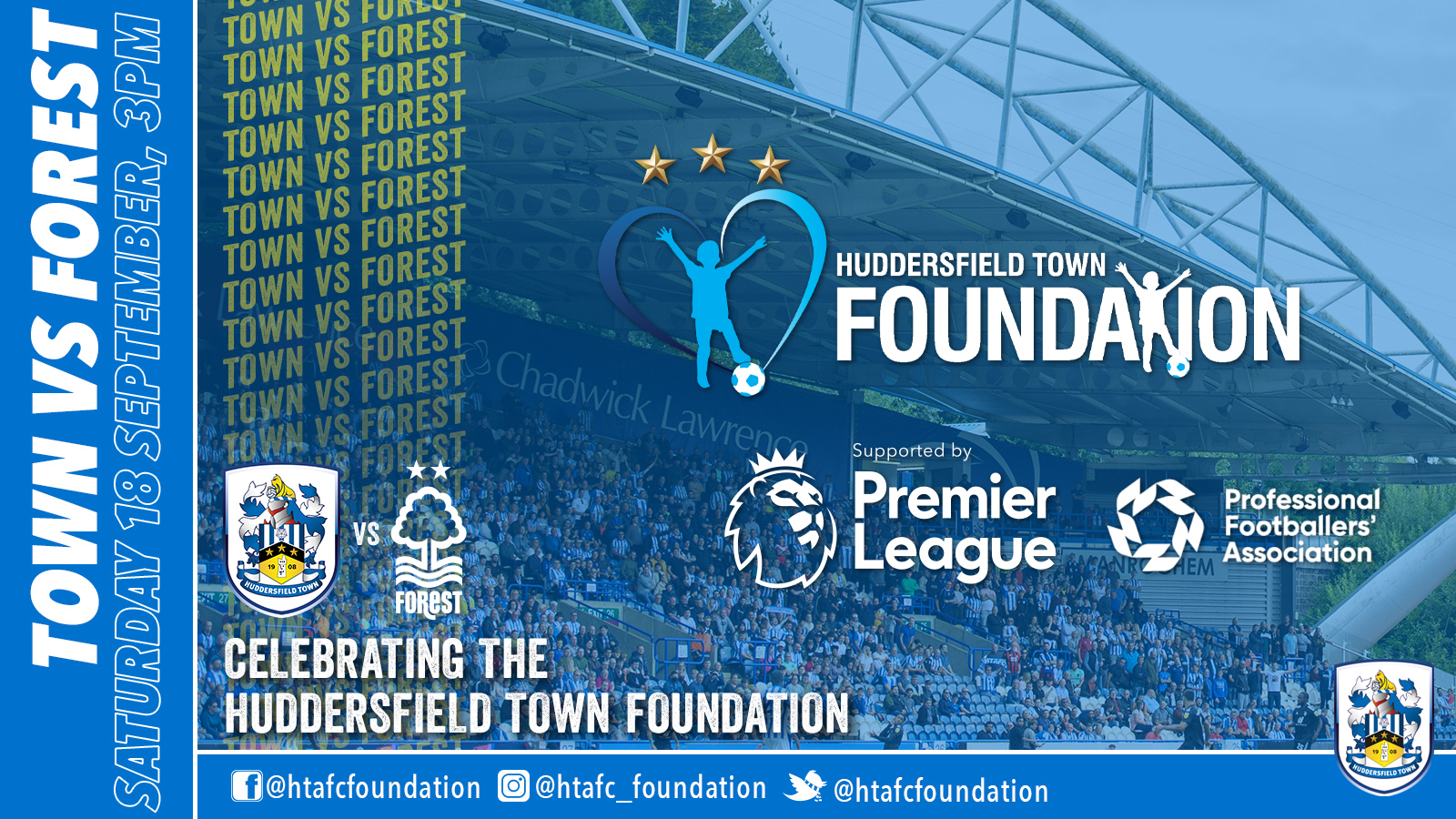 13 Sep

SHOW YOUR SUPPORT FOR THE FOUNDATION AT THE GAME AGAINST FOREST

This weekend's Sky Bet Championship fixture against Nottingham Forest will see the Club celebrate the work of the Town Foundation in the charity's first dedicated fixture since the start of the pandemic.

Fans and supporters are encouraged to learn more about the Foundation through a range of activity on the day.

Working to engage, inspire and impact its local community, the Town Foundation aims to help all Kirklees citizens live healthily, happily and to fulfil their potential.

The Foundation, which marks its tenth anniversary in 2022, will unveil its new strategy later this year following a period of community consultation.

On the morning of Saturday's fixture, Nick Barlow, who is best known for appearing on the Town Social podcast, will carry out his scantily clad steps challenge inside the John Smith's Stadium, Funds raised will benefit the Foundation and two other charities.

As fans arrive at the stadium, the Club's brass band 'Terrier Brass' will keep them entertained with a medley of music based at the new fan zone. Town Foundation bucket collectors will join them to welcome any donations.

The Fans for Foodbanks initiative will be back in situ, with bins based next to the entrance to the KAL leisure centre and the players' entrance. Please remember to bring your beans, pasta and other dried goods.

As you make your way to your seats, you will find the players warming up in Town Foundation t-shirts kindly sponsored by Big Dog Workwear. These will explain how to text donate to the Foundation. Post-match, the shirts will be signed by the players and auctioned.

At half-time, the Foundation's Chief Executive, Siobhan Atkinson, will join the Heff and Paul Ramsden pitch side to explain first-hand how the Foundation is benefitting the local community.

Finally, followers of the Foundation's social media channels should keep their eyes peeled in the days before the match for details of how to enter their competition and win a goodie bag donated by Club kit manufacturer, Umbro.

For those wanting to make a financial contribution to the Foundation, why not sign-up to their Regular Giving Scheme here and give as much or as little as you are able.

However you choose to get involved, please join us on Saturday to celebrate the work of the Club's official charity at its first in-person event since the 2019/20 season.