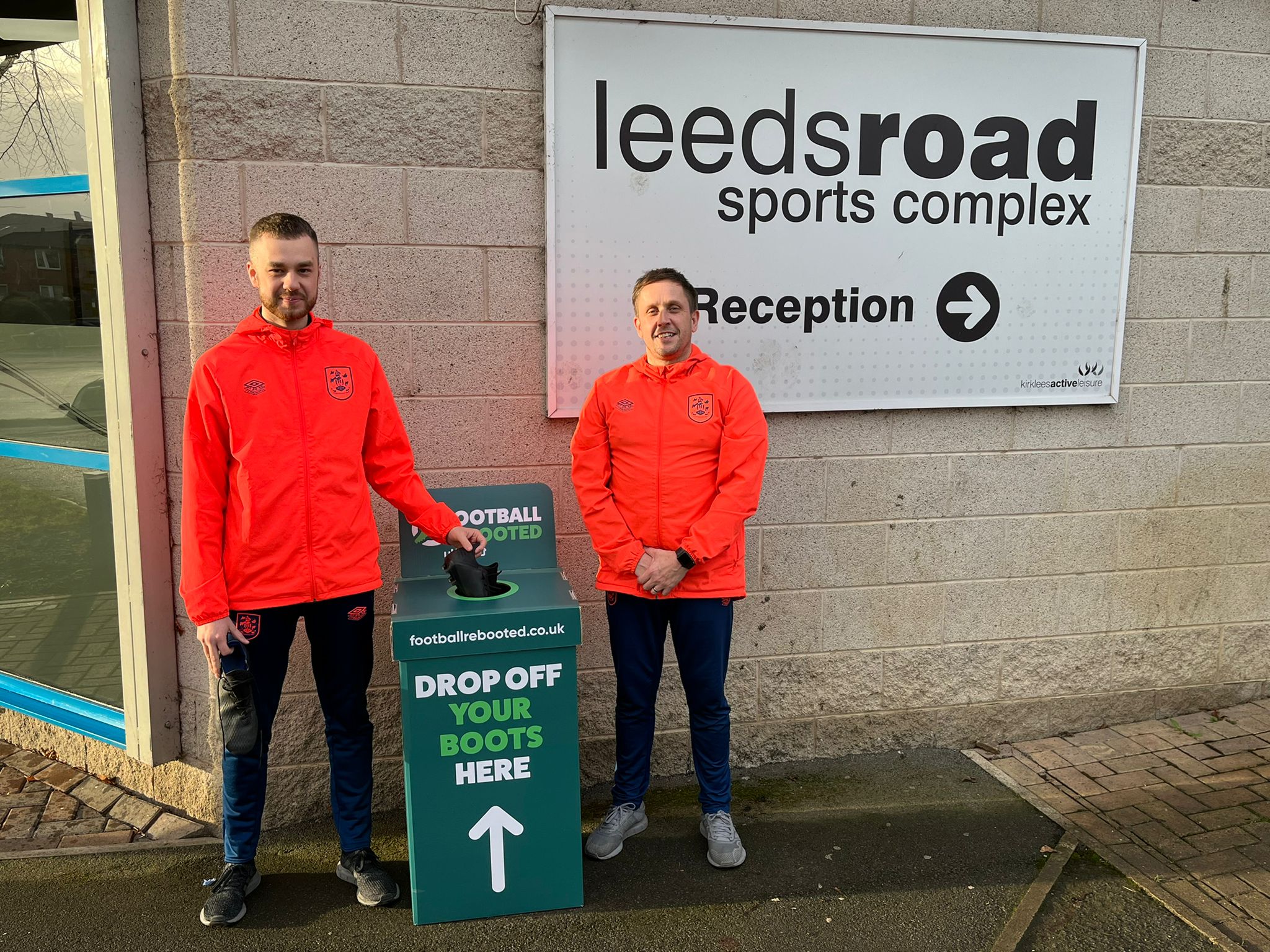 12 Jan

TOWN FOUNDATION SUPPORTS UTILITA'S FOOTBALL REBOOTED PROGRAMME

Following October's successful football festival, the Huddersfield Town Foundation is continuing its partnership with club partner Utilita Energy by supporting their Football Rebooted campaign.

Already dubbed as football's biggest ever environmental movement, the Town Foundation is the latest partner to join the campaign launched by David James MBE and Utilita Energy.

Its aim is to save families a small fortune and keep one million pairs of football boots out of landfill.

From this week supporters can donate their no-longer required boots for all surfaces at two dedicated collection points.

The first is at Leeds Road Sports Complex, where the Town Foundation is based. This can be found in the main reception and can be accessed Monday – Friday, 9am – 10pm.

Secondly, a collection point will be in place at the newly renovated Community Hub opposite the South Stand turnstiles at the John Smith's Stadium.

This will only be accessible on home Huddersfield Town match days, from three hours before kick-off until the start of the match.

Back in October, defenders Tom Lees and Matty Pearson donated several pairs of boots from the Town squad to the scheme at the Utilita Football Festival.
After an impressive kick-off back in May 2021, the successful 'Football Rebooted' campaign has already collected and reallocated thousands of pairs of quality football boots, saving hard-pressed families a small fortune and helping to reduce carbon emissions.
Archie Lasseter, Utilita Energy's Sustainability Lead comments on the environmental impact of rehoming boots:
"By giving people the information and infrastructure to do the right thing, this campaign is adding multiple layers of value to people and the planet. Every collection point can fit around 50 pairs of boots inside, which means to hit our one million pair target we need them refilled 20,000 times."
Campaign ambassador, David James MBE, comments on why the campaign is so important:
"Right now, there are millions of pairs of football boots that people have grown out of or replaced, and we need to make sure they don't end up in landfill.
"It's great to see Huddersfield Town getting behind the Utilita Football Rebooted campaign and ensuring good quality boots get played again. The campaign promotes an important reminder about the power of upcycling and reusing items that still have a lot of life left in them."
Siobhan Atkinson, Chief Executive of the Huddersfield Town Foundation, adds:
"We're delighted to be able to support such a worthwhile cause. As a charity we have a keen interest in the sustainability of our work, and reuse of items often comes into that.
"Because children grow so quickly boots often aren't 'overused', so any donation that you can make will be greatly appreciated and make a huge difference in our local community."
Once the Foundation receives boots, they will be re-distributed to people who need them most via its partnership with local charity Uniform Exchange.