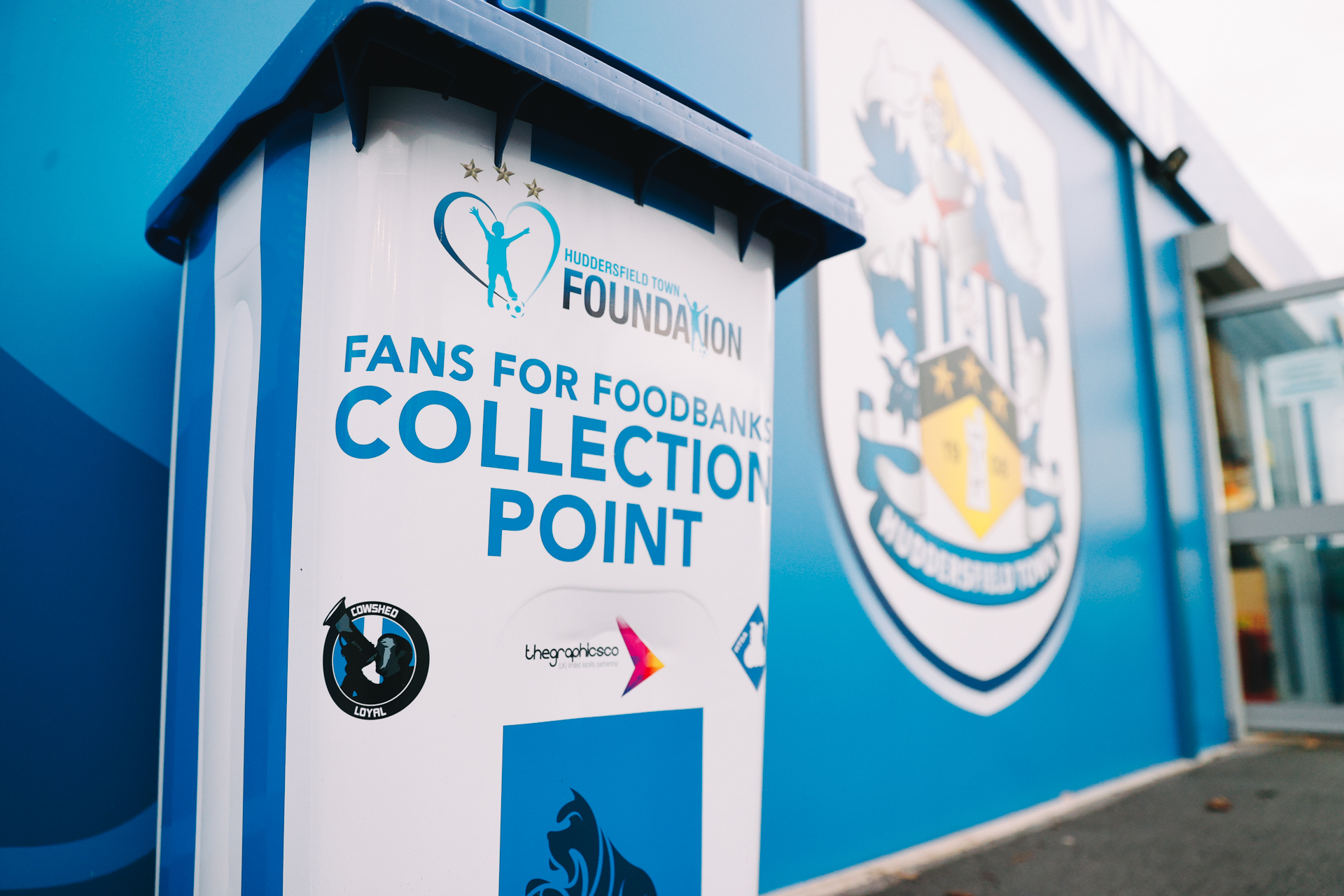 28 Jul

2022/23 FANS FOR FOODBANKS AND UTILITA FOOTBALL REBOOTED DETAILS

During the 2022/23 season, the Huddersfield Town Foundation will once again have Fans for Food Banks and Utilita Football Rebooted donation points in place on home match days!

Both campaigns are designed with our local community in mind, with supporters encouraged to spare anything they can to help either cause.

Fans for Food banks has run in partnership with the HTSA since the 2017/18 season and in that time, 10s of thousands of items have been donated ahead of the Club's matches.

All food items should be non-perishable, meaning that they are processed or packaged to withstand prolonged storage.

Cleaning products and toiletries are also accepted, with all donations split between local food banks.

Donation points will be located in the Community Hub, outside the Leisure Centre entrance and by the Players' Entrance from two hours ahead of kick-off at every home, competitive fixture, manned by Foundation volunteers.

The Foundation is also excited to be facilitating Utilita's Football Rebooted campaign on match days!

As a Club partner and front of shirt sponsor, the Energy Supplier is keen to make a difference in Huddersfield as proven by the Utilita Football Festival hosted last year.

The mission for Utilita Football Rebooted is to rehome at least one million pairs of quality football boots across the UK, this will stop the increasing number of them ending up in landfill.

Every time a pair of football boots or trainers is made, around 30lbs of carbon is generated.

With the aim to rehome one million pairs of 'pre-played' football boots and AstroTurf trainers, Football Rebooted will save families a fortune while saving the planet from 136,000 tonnes of carbon – this is the same as turning the energy off in one million medium sized houses for a week!

It is free and easy to donate your spare boots and give somebody else the chance to get them back on the pitch! There's no better time to take part in football's biggest ever environmental campaign.

A donation point is in place inside the Huddersfield Town Community Hub, opposite the Core Stand.

If you would like any further information about either campaign, please contact the Town Foundation via email: help@htafcfoundation.com or telephone: 01484 503773 in the first instance.