26 Oct

YOUNG PEOPLE ENJOY TRIP FURTHER NORTH TO WATCH TOWN!

Saturday's Sky Bet Championship match between Middlesbrough and Huddersfield Town was a very special one for a number of young people that work with the Town Foundation!

The Club's charity facilitated a day to remember for 11 children from Reinwood Junior School, one of its Premier League Primary Stars partner schools.

After traveling to Teesside the group took part in an educational workshop around Black History Month. This included learning about Lloyd Maitland, the first black player to represent Town at first-team level.

They then had the opportunity to walk out on to the pitch with Town's players as mascots and watch the match from the stands!

When doing so they wore t-shirts bearing the number 25 on the back, and the Town Foundation would like to thank the Jordan Sinnott Foundation Trust for organising these tickets for the children and support staff.

CLICK HERE to learn more about their work to support vulnerable and under privileged children and young adults access healthy recreation.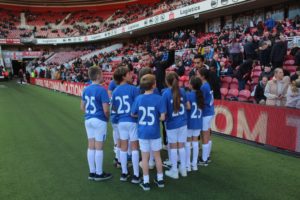 Premier League Primary Stars uses the appeal of the Premier League and professional football clubs to inspire children to learn, be active and develop important life skills.
Foundation staff work with schools through targeted interventions in English, Maths, PE and PSHE.
In addition to the experience for the primary school children, a group of 13 and 14 year old children that regularly attend the Foundation's Monday night Premier League Kicks session at Leeds Road Sports Complex also took part in the trip.
They took on their counterparts at the Middlesbrough Foundation in a friendly fixture at their Herlingshaw Community Centre, before also taking in the match!
If you're aged between 8-18, or know someone who is, why not give Kicks a go? The free football sessions take place in varying locations throughout the week, with no pre-attendance sign-up required.
CLICK HERE read the full timetable.