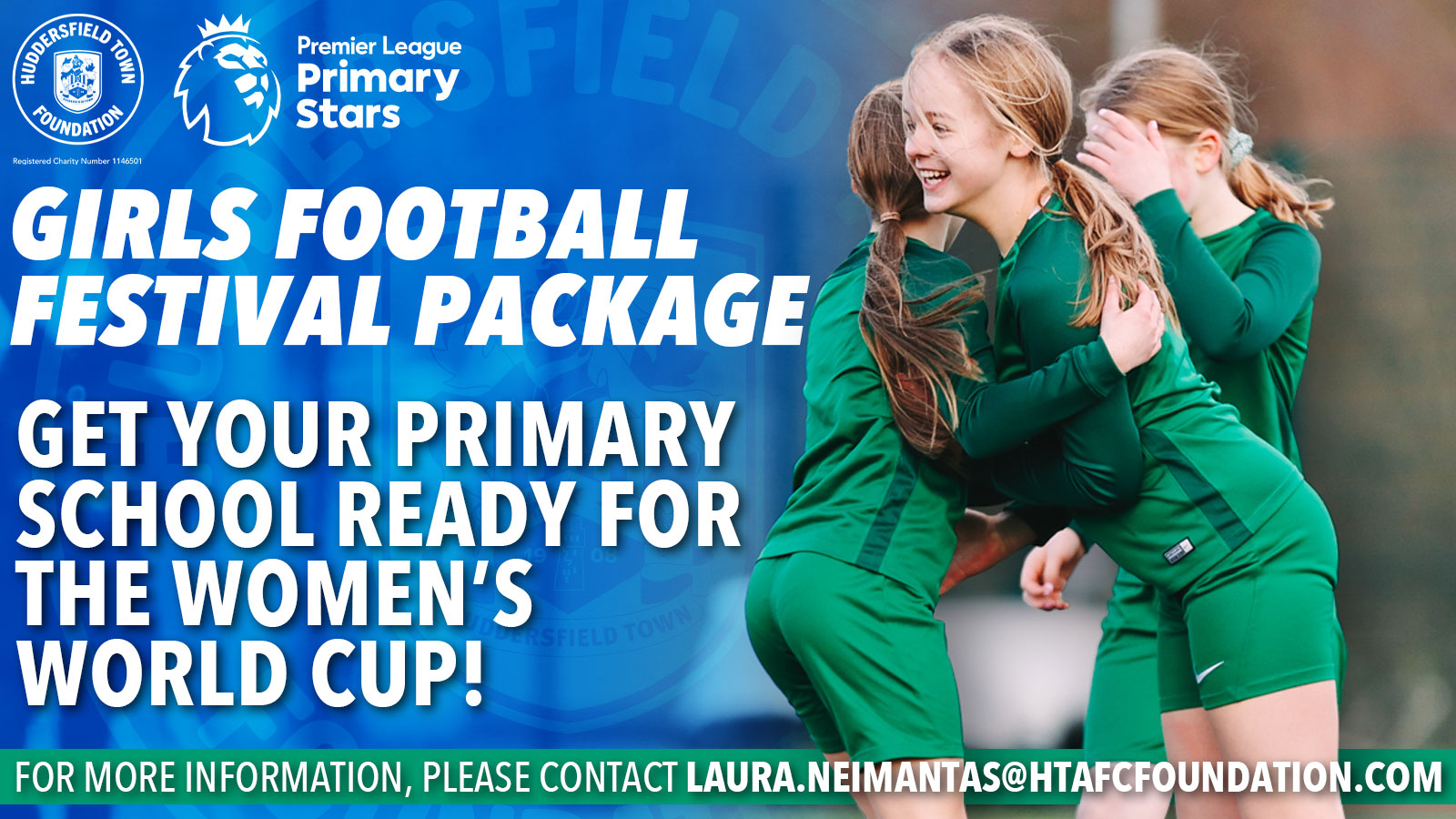 20 Apr

PREPARE FOR THE WOMEN'S WORLD CUP WITH A GIRLS FOOTBALL FESTIVAL PACKAGE!

Huddersfield Town Foundation is offering Primary Schools the chance to get ready for the FIFA Women's World Cup 2023 in Australia and New Zealand with our fun, action-packed Girls Football Festival Packages!

As the Lionesses prepare for their World Cup venture, the Foundation want to get as many girls involved in football as possible and allow them to express themselves in a footballing environment.

Although the day is based around the element of football, our Girls Football Festival Packages are also about helping the girls at your Primary School to gain confidence, learn about respect, and build on teamwork whilst having lots of fun throughout the day.

The day consists of a carousel of activities designed to bring out certain merits in young people so that they can exercise those characteristics as they develop.

Activities include a 'what makes a footballer' assembly, a 'working as one' session to enhance the girls' communication and teamwork, a football session, and visits from a player and Terry the Terrier.

The Foundation recently delivered a similar session at Mount Pleasant, which was fantastically received during their Biggest Day of Football event in line with Barclays Girls' Football School Partnerships. CLICK HERE to read more on the day.

Premier League Primary Stars manager Laura Neimantas said: "I'm really looking forward to running the Girls Football Festival Packages in the build-up to what could be an exciting Women's World Cup.

"By delivering these days in Primary Schools, we hope to inspire young girls to partake in sport, especially in football ahead of the summer.

"After how well our event at Mount Pleasant went, I would urge anyone to get in contact and sign up for our package as it's not just about the football but the qualities that the young people gain with it."

To register your interest and receive a brochure of the Girls Football Festival Package that we are offering, please email laura.neimantas@htafcfoundation.com.

For more information on our Premier League Primary Stars delivery, please contact help@htafcfoundation.com with your enquiry.