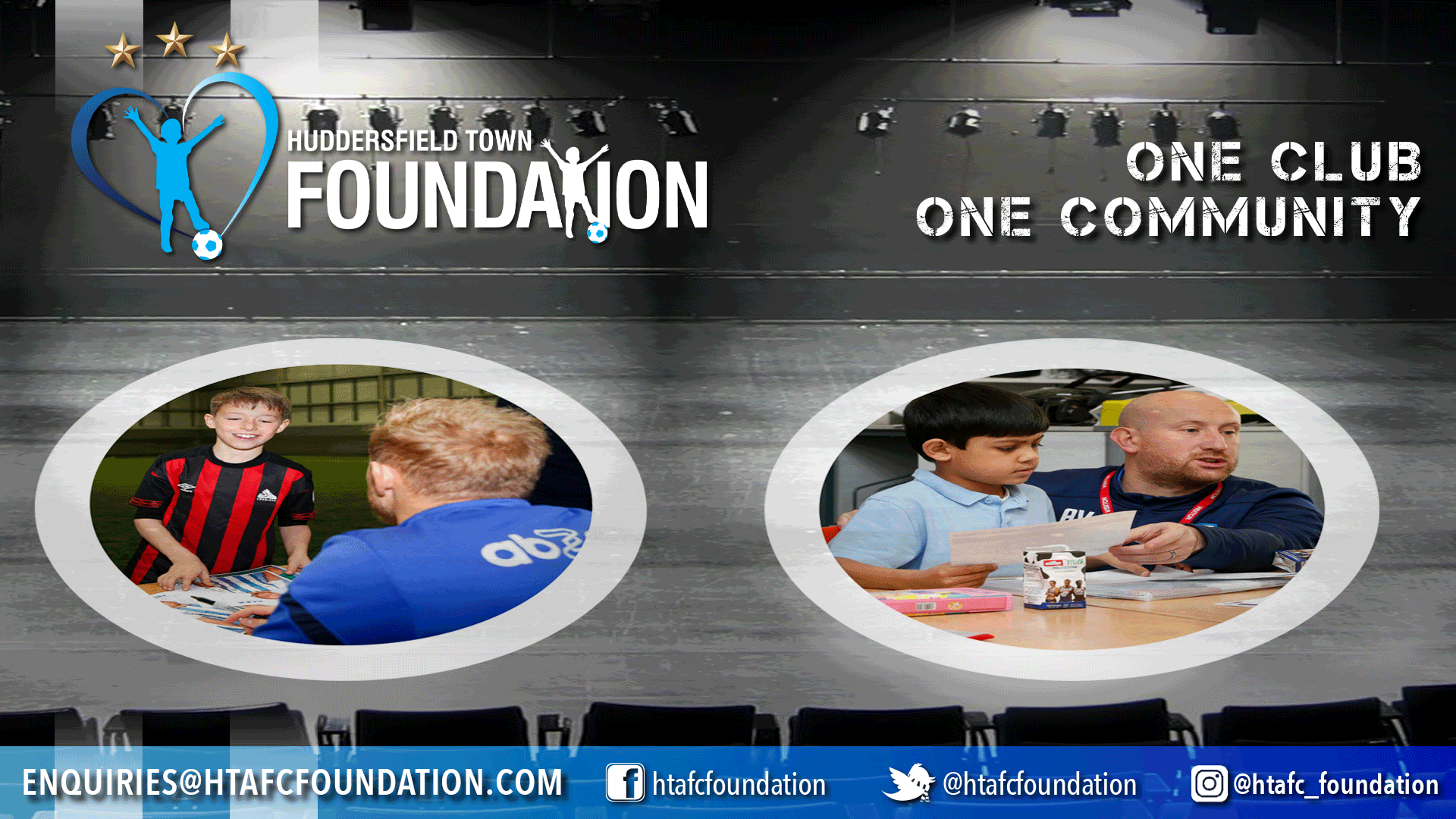 26 Jun

SPOTLIGHT ON THE TOWN FOUNDATION: PART 3

So far in the 'Spotlight on the Town Foundation' series, we have covered topics like funding, the range of programmes we offer and our relationship with Huddersfield Town.

In the third and final instalment, we turn our attention to what the rest of 2020 looks like for the Huddersfield Town Foundation, as well as exploring the effect of COVID-19.

COVID-19 Response

It is fair to say that the pandemic has had a major impact on the Foundation's operations, as is the case for a wealth of organisations and charities across the UK.

Almost overnight, we had to completely shutdown our face to face delivery of programmes. This would normally be multiple sessions a day across the length and breadth of Kirklees.

With the closure of the Leeds Road Sports Complex, where the Town Foundation's offices are situated, all staff had to adapt to a new way of working and home offices were set up.

After a period of time the difficult decision was taken to place frontline coaching staff, who were unable to deliver any sessions, on furlough to protect the financial status of the organisation. Eight full-time members of staff have been working hard to keep the organisation going.

Throughout the pandemic, the Foundation has offered its services to vulnerable people in the Kirklees community, whether that be collecting supplies or simply providing somebody to talk to. 

It has also continued to work with schools who have kept their Breakfast Clubs running. It is predicted that between 21 March and 17 July 2020 (when schools break up for the summer holidays), 11,100 meals will have been served to children of key workers still attending school.

In addition to these measures, we have helped the young people who would usually partake in our programmes stay engaged whilst learning at home.

This includes the creation of a Terry the Terrier themed activity book for Primary School children, as well as the virtual Social Action Project aimed at youngsters of Secondary School age.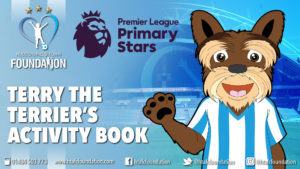 Furthermore, the Foundation has run various competitions and physical challenges on its social media channels. Examples include the Easter Egg Design Competition, Boot Design Competition with Umbro and Lockdown Athletics challenge booklet.
The football club has also had a key role to play in this, helping with the filming of skills challenges from first-team players and facilitating Zoom calls with both Collin Quaner and Harry Toffolo.
Continuation of Fundraising
As well as the above, the Foundation team has been working hard on methods of virtual Fundraising. You may have seen videos of Town players Harry Toffolo and Chris Schindler completing the 2.6 Challenge, for example.
Moreover, we have set up a text donate service which allows supporters to donate £1, £3, £5 or £10 at the click of a button, in addition to the already established Just Giving page for donations greater than £10.
As always, the team is keen to support any individuals who would like to run their own Fundraiser in aid of the Foundation. If this is something that interests you, please feel free to contact lisa.bottomley@htafcfoundation.com for support.
Plans for the Future
Given the ever-changing nature of Government guidelines and regulations, it is probably best to look at this situation in both the short term and long term.
In the short term, we hope to be able to return to delivering sessions in person as soon as it is safe to do so. These are likely to look slightly different to what people are used to, but the safety of our staff and participants is of paramount importance.
We are working with local primary and secondary schools to deliver a transition project between now and December to support current year 6 children in their transition to high school.
The Foundation's inaugral NCS Summer programme will also be taking place , albeit not in the guise that was initially planned. Instead, the youngsters will be encouraged to undertake Social Action and Volunteering in their local community. 
As we progress further into the year, we have several projects that are set to get off the ground.
The Town Foundation has recently secured funding to deliver a project that will work with young people who are preparing to leave the care system – an area identified as needing further help.
In addition, September 2020 will see the launch of two educational projects. Firstly, we have been working in partnership with Calderdale College to launch a new Female Football Academy for 16-18 year olds.
The Academy gives aspiring young footballers the chance to study any course at the college, whilst also receiving regular training from Town Foundation coaches and representing Huddersfield Town in the EFL Trust league.
There is still time to apply to this programme, so please click here to find more. Alternatively, you can email katie.suttron@htafcfoundation.com if you have any questions.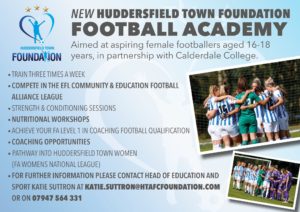 Moreover, we have teamed up with the University of South Wales and EFL Trust to deliver a two-year Foundation Degree in Community Football Coaching and Development.
Students on this course will be primarily based at Leeds Road and earn an industry recognised coaching qualification, as well as gaining valuable work experience and having access to USW's online resources.
Our staff are always keen to hear from local people, and as such we will be forming a youth panel to hear directly from young people about how we can help them.
It is also anticipated that all programmes in operation before the Government lockdown will resume in due course. We will of course provide further information on this when we have it.
We'd like to round off this series by thanking everybody who has ever supported the Town Foundation, whether that be via a monetary donation, volunteering, fundraising or any other way.
Without your support, we would not be able to do what we do best – supporting members of the local community. Together, we will get through this. We are: One Club, One Community.